Description
Nylon Cable ties
Cable ties are becoming more and more common in everyday life. They are used instead of many other conventional lanyards when they are more durable and eye-catching. If you have not found yourself a quality production site with a cheap price, please suggest a hadupack address.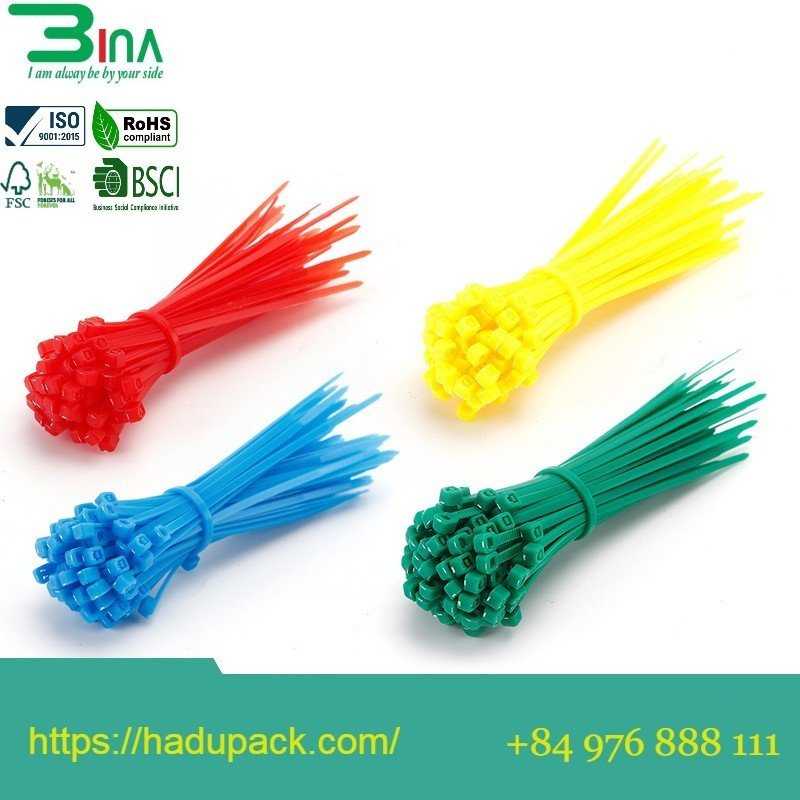 Cable ties are what kind of wire?
Cable or plastic ties, plastic drawstrings are known and used by everyone in many different fields. Is a type of rope made with the main raw material produced from PA plastic beads, also known as nylon 66. Along with some additives and other coloring agents, if any, it will create a string with high quality. durability and toughness.
The rope is composed of 3 main parts: the withdrawing head, the withdrawing body with regular serrations and the withdrawing tail is smooth plastic without serrations from 2 to 5cm long.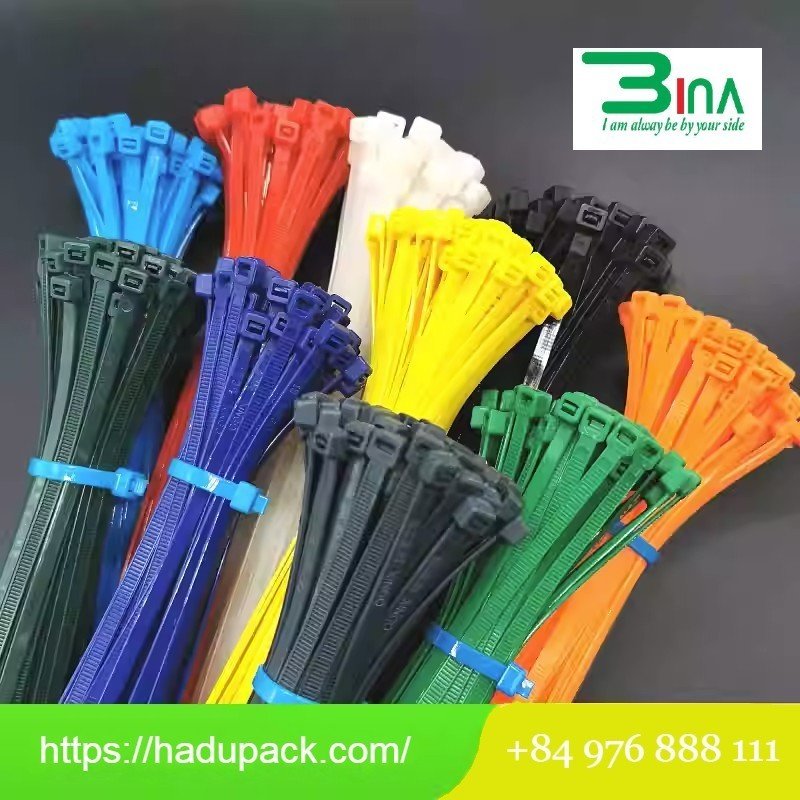 Cable ties products
Cable ties at Hadupack are manufactured from qualified raw materials and through careful selection. The production line is guaranteed for durability, color and price, so it is chosen to be used as an alternative to many other types of rope such as fabric cords, elastic bands, rubber bands, etc.
Products after being manufactured by Hadupack by a closed and modern line will be packed into bags with separate quantities and sizes. Customers can place orders and request packaging according to their use purposes. Here is the packing specification with the quantity according to the packing company and providing that you can refer to:
Dimensions and packing:
Plastic tray 3 × 100mm, standard packing 1000 pcs/bag

Plastic tray 4 × 150mm, packing 500 pcs/bag

Plastic tray 4 × 200mm, packing 250 pcs/bag

Plastic tray 4 × 250mm, packing 250 pcs/bag

Plastic tray 5 × 300mm, packing 250 pcs/bag

Plastic tray 8 × 400mm, packing 250 pcs/bag

Plastic tray 10 × 500mm, standard packing 100 pcs/bag

Plastic tray 8 × 300mm (standard version), standard packing 250 pcs/bag
At Hadupack, we receive production with a price list of cable ties, plastic fasteners of arbitrary sizes and packed with the required quantity. And in addition, the wire has a variety of colors that you can choose from: green, blue, red, black, white, etc. The most common type used by the market today is probably the most popular one today. Still white and black.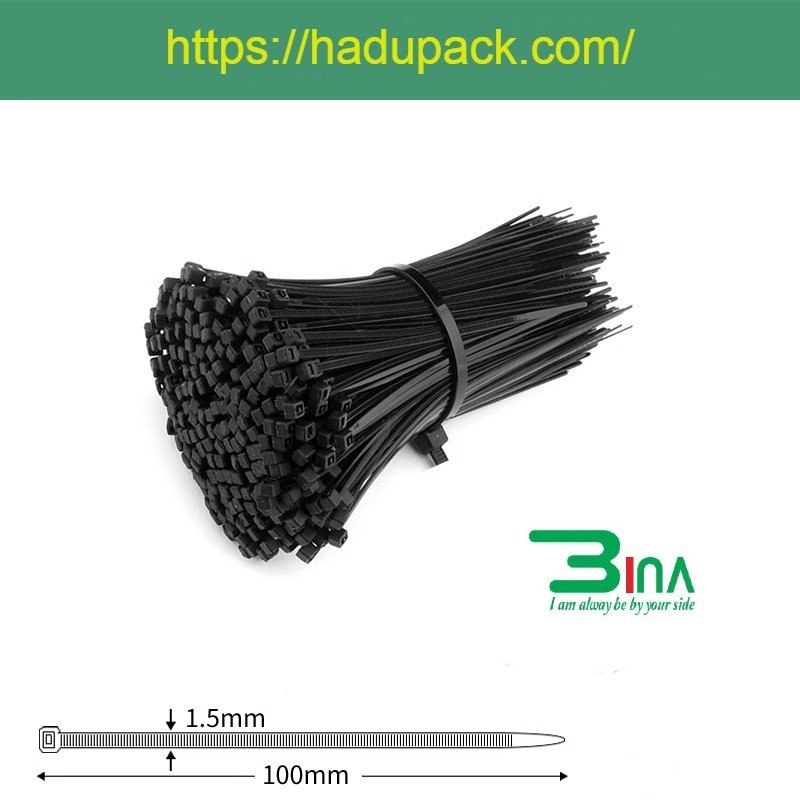 Why should you choose cable ties?
As you know, the rope is manufactured from flexible PA (Nylon 66) with a durable polymer structure. Therefore, the rope has an extremely high strength and toughness, providing great efficiency when using them to tie, to fix. And yet, the plastic drawstring has a compact, lightweight design that also brings more aesthetics when used. The production cost of plastic lacing – plastic drawstring is quite cheap and very easy to use, so it is always preferred to replace other types of wire.
Application of cable ties in life and production
INDOOR: Great helper to keep your home and office tidy. Say goodbye to clutter as our cable wraps provide perfect cable management and they hold plenty of other items to keep them in place.

OUTDOOR: UV resistant, waterproof, fireproof and temperature resistant, the lanyard can withstand almost any extreme condition. Ideal for use in the garden, street and any outdoor place, safe and durable.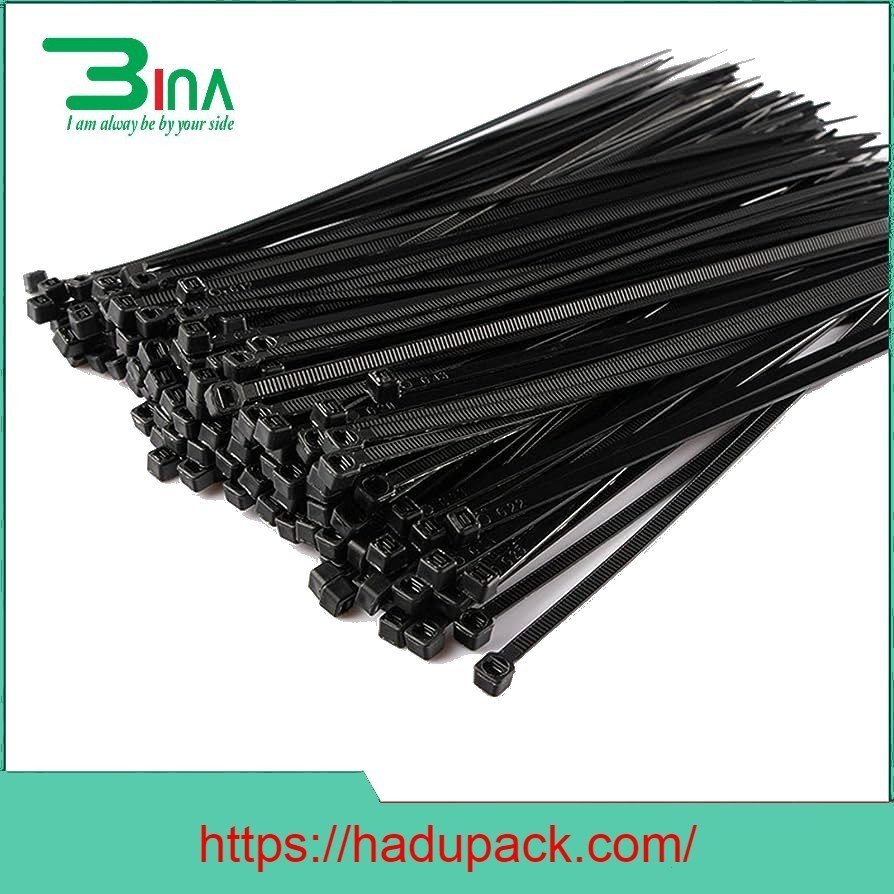 Black and white plastic drawstring features:
High quality: Anti-acid, anti-corrosion, good insulation, not easy to aging, high strength

Super convenient and durable: Quality self-adhesive base fits clean, flat and dry place, no screws required

Quality Buckle: The buckle of our zip tie is thickened to achieve improved tensile strength to hold items of greater quantity and weight for longer periods of time.

Excellent Workmanship: Laminated with excellent workmanship, our cable covers have a smooth surface and no burrs, to ensure that the lanyards are easy to pull and hold firmly to prevent loosening.
Using cable ties
Cable ties are designed to be easy to use and extremely convenient. When you use it to tie or fix any object, just thread the string through that position and thread the drawstring through the lock above the head and pull it firmly until it is tightly attached to the object. Rest assured that as long as you pull it close to the tie position, it is sure because on the surface of the rope there are embossed notches that keep the rope from being pulled out.
Wires are used only once and have high durability, so it is difficult to tear them off by hand. When you want to remove the rope, use scissors or pliers or other sharp tools to cut it instead of using your hands to avoid injuring your hands.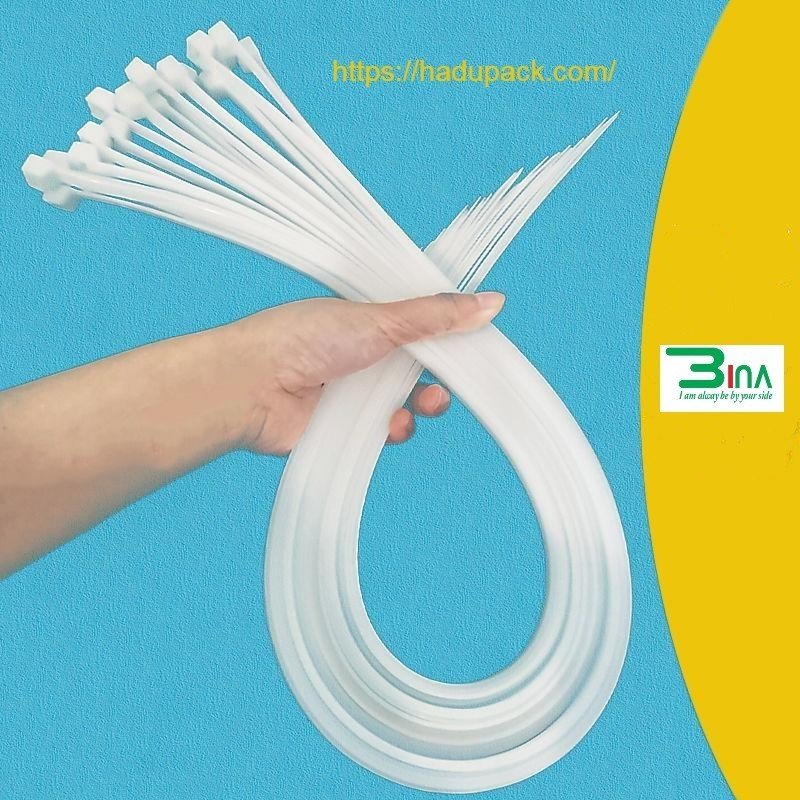 Please contact Hadupack to order cable ties
BiNa Vietnam International Co., Ltd takes professional focus, high-class efficiency, sincerity and sincerity as its business philosophy, and is committed to exploring new technologies. Develop new products and build ourselves into a famous brand at home and abroad with perfect management and superior varieties, focus on the future and keep pace with the times.
For this reason, the company has invested heavily to update its plastic fastener production equipment, implement centralized unified management of injection mold production, and upgrade its automatic product assembly system. At the same time, the company also attaches great importance to the construction of a tensile laboratory, now the company can independently complete the testing of various performance indicators such as fire resistance, high temperature environment and Low, corrosion resistance and impact resistance of nylon lanyard.
With rich professional production experience and advanced process development, we develop and produce pp plastic lanyards, nylon cable ties, cable splices, stainless steel cable ties, cable ties, Terminal blocks, steel nails, wire clamps, snaps, extension tubes and hardware. Plastic products, nylon chips, special colors are welcome to order, product material: UL approved nylon PA66.
See more: PP strap

Hadupack is the address that provides a reputable plastic drawstring quote that you need to find. Because at the company there are:
Professional and experienced staff

Modern facilities and equipment

Products are available in different sizes and colors

Attractive offers when ordering in bulk

Consulting, production support and delivery