Description
WHAT IS THE PRINTING LABEL?
Label printing is the application of a printing technology or systems to production. This helps to make the types of labels produced become more diverse and promote the value of the product as well as add anti-counterfeiting protection to that product.
Label printing technology can be divided into two types according to the nature of the printer:
Technology for printing labels with a single printing process (Single print process): manual printing, digital printing

Technology for printing labels with a combination print process. This is a technology that uses only one printing system to print labels such as Flexo, offset…

The combined printing process will be able to increase the value of the labels with different printing techniques such as needle press, emulsion, aromatic ink printing, etc. The obtained labels will have a different appearance than the original labels, print using a single print process.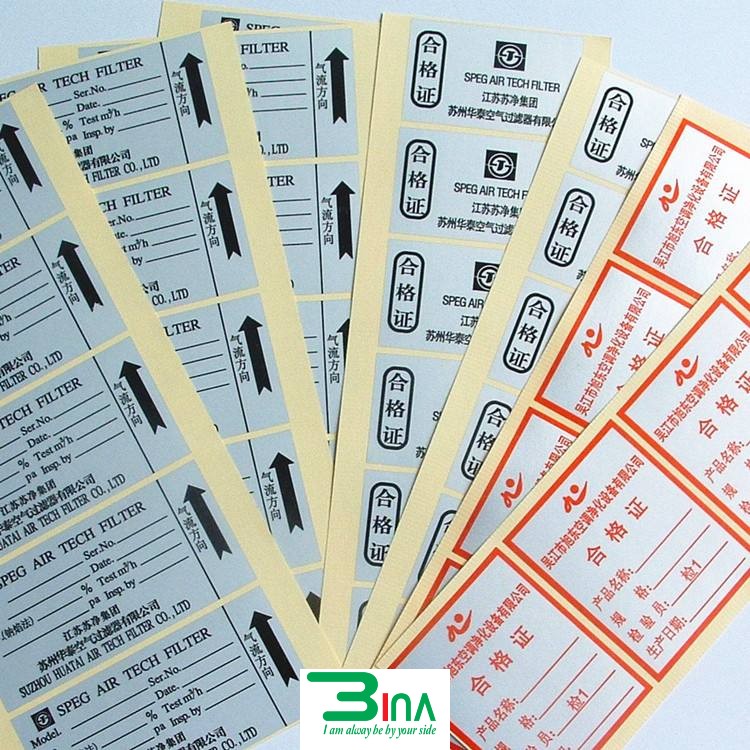 PRINT TEMPERATURE LABEL FOR PACKAGING AND CODE PRODUCTS
Label printing brings many benefits, making products stand out, attracting customers' attention, building brand images, and providing information about products to customers.
At Hadupack, you can order labels for all types of products. Because labels can be affixed on any surface such as bottles, jars, cans, boxes or personal items such as laptops, phones, clothes, household appliances, furniture…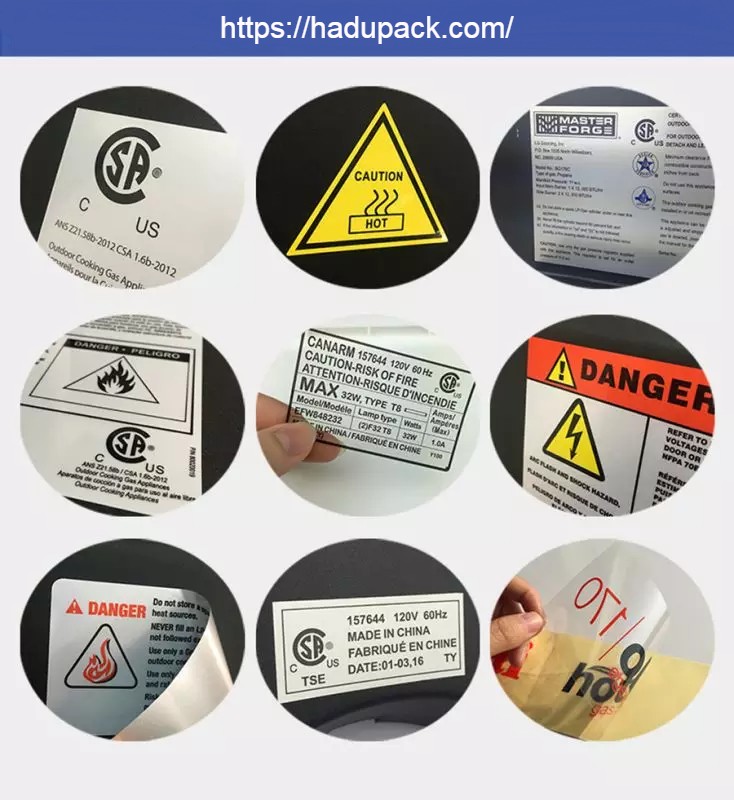 INFORMATION AND CONTENTS MUST HAVE WHEN PRINTING TEMPLATE LABEL
The label must contain the following information:
Product's name;

Name of the business or individual responsible for the product;

Quantification of products;

Expiry date of the product;

The date the product was manufactured;

Origin and origin must be stated on the product label;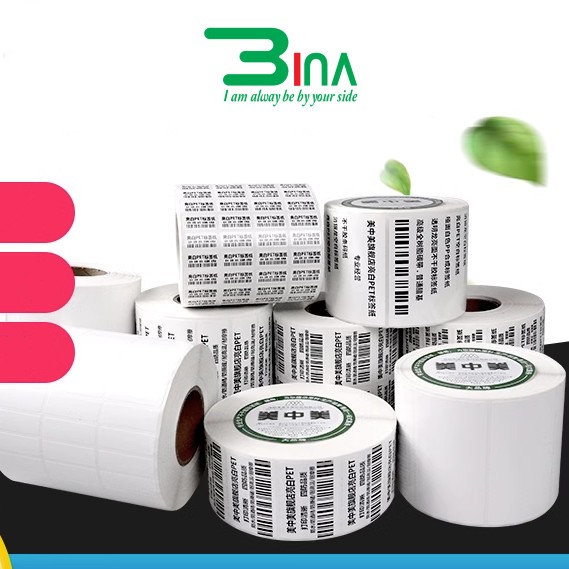 DESIGN LABEL STAMPS IN MULTIPLE FORMAT
Hadupack offers two types of labels: Sheet labels and roll labels.
Sheet Labels: Sheet labels are not only perfect for small businesses just starting out, but are also an ideal choice for specific situations. If you're testing a new design for your product, label printing is a cost-effective way to get a test run. Experiment with different colors, fonts, shapes, and materials, then experiment, and gather ideas from multiple sources. If the signal is good, switch to roll labels
Roll labels: Roll labels are better for product packaging. Labels on rolls are easier to peel off than labels on sheets. Roll labels are an affordable way to order labels in bulk and are compatible with automatic labeling machines. The more you buy, the more you save.
See more: Custom roll labels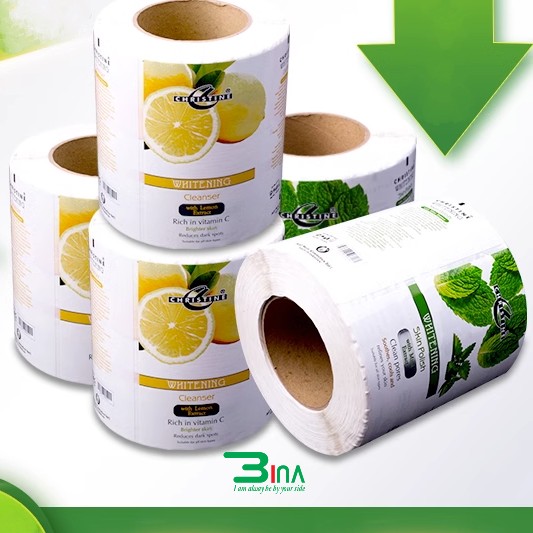 POPULAR LABEL STAMP MATERIAL
With so many decal materials for label production on the market, choosing the right material for your product packaging can be overwhelming. That's why we've put together some of the most popular stamping materials used by Hadupack customers to help you choose the correct material for your product.
TRANSPARENT LABEL STAMPS
Perfect for bottled or jar products. Transparent labels are a great way to showcase the quality of the actual product inside while providing a label-free appearance.
SILVER STAMP, METAL DECAL LABEL STAMP
Metallic labels take your branding to the next level. Add a sparkle to your product label design, highly durable, tear-resistant, scratch-resistant, waterproof, oil-proof, heat-sink and good heat resistance.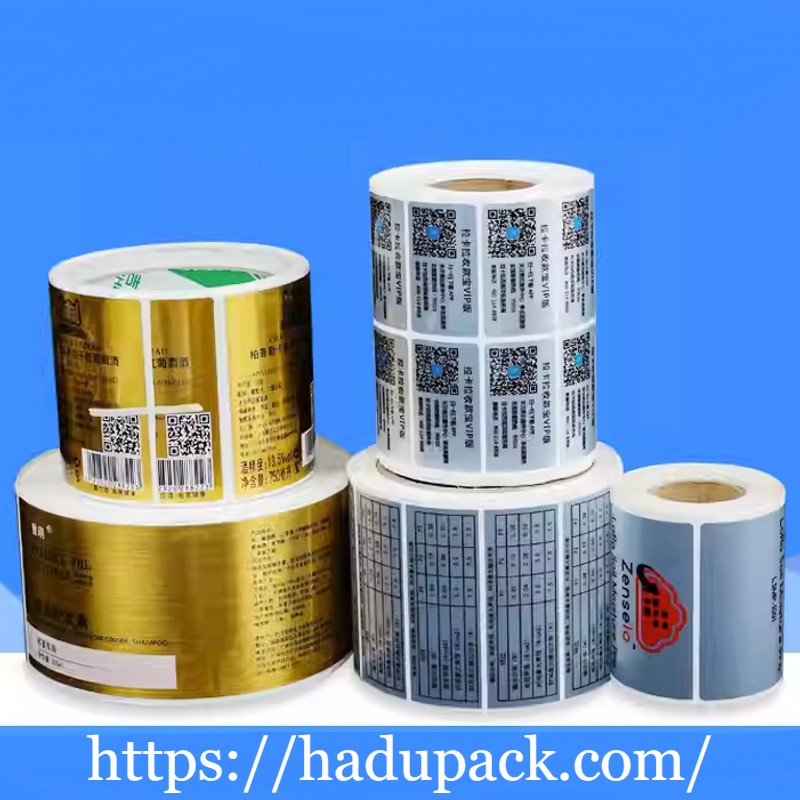 HOLOGRAM TEMPERATURE
Give your labels an eye-catching, psychedelic color. Hologram labels bring interesting, outstanding to attract attention. Used on book covers, bottles, product packaging. This material sparkles, glows and adds an elegant look to give your product a luxurious feel.
PLASTIC STAMP
Plastic stamps are waterproof, tear resistant and resistant to oil, UV, sun and fading. Vinyl stamps can withstand water and moisture without damaging the ink. It also lasts much longer than paper labels when exposed to the harsh elements.
TEMPERATURE NEEDED LABEL, SMALL
Gives the product a high-end, luxurious look. Embossed gold, silver, rose gold…

This type of label is suitable for a wide range of products including cosmetics, health products, alcohol and bottled beverages, etc.
PRINT LABEL TEMPERS
Hadupack fulfills all your label shape requirements.
Some common shapes are:
Rectangular label: For tall and thin packages, or wrapped around low and wide packages. Use stickers on the front of your product to show your brand and on the back for ingredients and instructions.

Round Label: For small containers or for extra information on the lid. Use as a seal for your product

Square labels: Use as pricing labels or to add barcodes. Can also be tilted to create a diamond shape.

Oval label: Looks great with a clean, minimal design. Additional text can be included around the border. For something bolder and more eye-catching, consider using striking options like: triangle, pentagon, hexagon, star…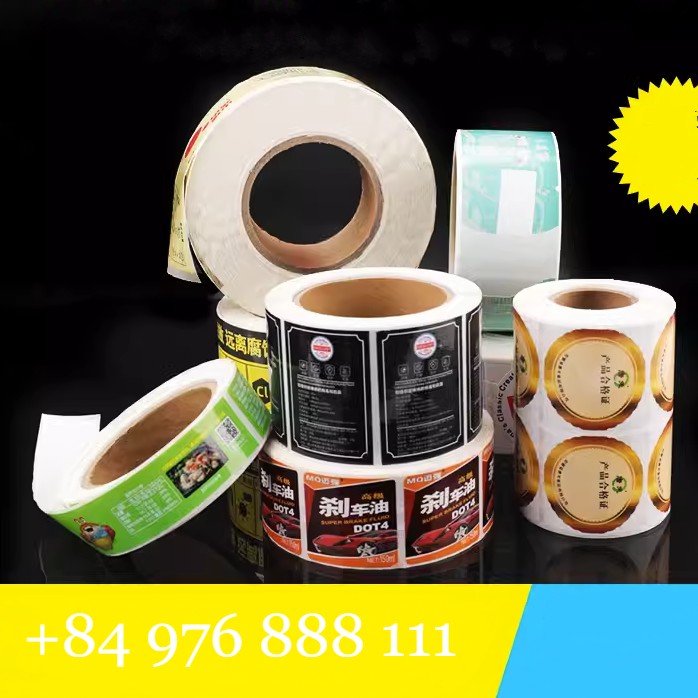 Use labels to market your business
For small businesses, one of the most challenging aspects of selling a product is making it stand out from the competition. One way to achieve this is to create product line packaging. Another creative and cost-effective way to give a product a makeover and differentiate your brand from the competition is to print labels.
Label design includes your brand logo, product name and other important details that customers should know about your product such as ingredients, product information. Labels with a beautiful and professional design will help create a favorable first impression for the brand.

ADVANTAGE OF LABEL TEMPER PRINTING AT HADUPACK
No matter what your needs are, changing to a new product label, testing a new label design, or the label material you want is rare in the market, Hadupack is the leading label printing business that businesses use. Your business can be trusted.
Our mission is to help our clients take their creative ideas to the next level with professional printing.

Everything available to suit your needs: You have complete choice of materials, sizes, shapes, and finishes — countless printing possibilities await you.

Label printing for any budget: We guarantee premium printing at an economical price. You can even save more when printing in bulk.

The leading modern printing line in the country: Unlike many label printing companies, Hadupack equips the industry-leading Edale FL3 printing line. The advantage of high printing speed and automation makes our label printing cost the best in the market and the outstanding quality of labels ever.