Description
 Pe Stretch film – Shrink film
PE stretch film is a type of film made from thermoplastic, high elasticity used to wrap and wrap around goods, electronic components, items that need to be stored from dust and moisture… Elasticity Their good quick recovery helps to secure connected goods and items tightly and tightly.
1. What is PE film for pallet wrapping?
PE film (English name is PE Stretch film or Polyethylene film) is more and more popular. Using PE film (industrial stretch film) to wrap and wrap goods to help ensure absolute safety of goods and goods, to avoid jostling, breaking, and scratches during transportation, storage, and packing. Pallets, food packaging, food.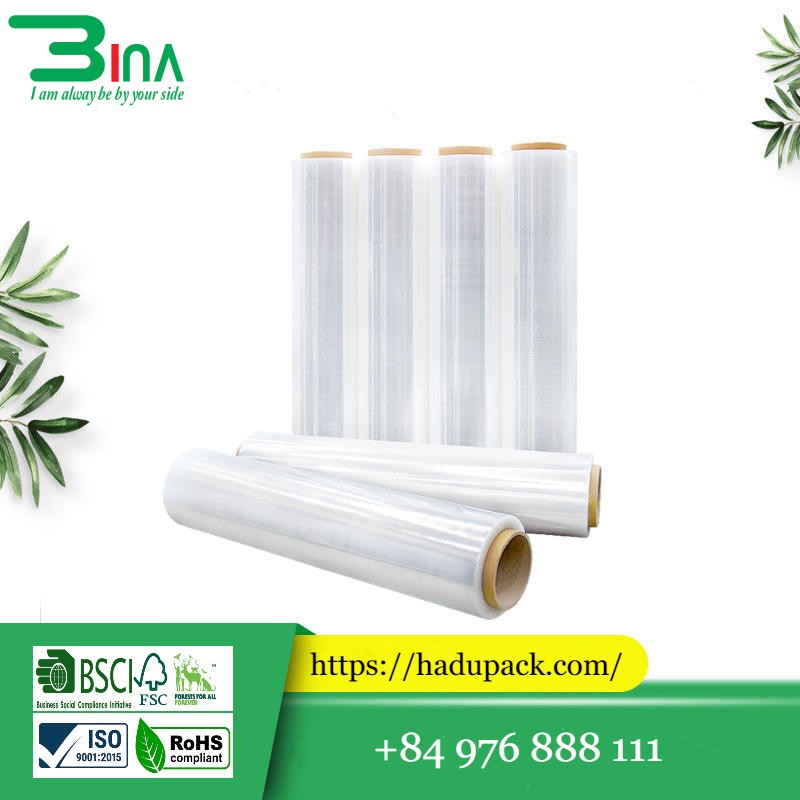 • ✓So what is PE film (stretch film)?
• ✓Features of PE film
• ✓What is the price of PE film?
• ✓Where to buy PE wrapping film?
These are the questions that many customers ask when intending to use PE film to wrap goods. BiNa Vietnam International Co., Ltd is proud to be the most prestigious supplier of PE Rolled Pallet Film today, committed to bringing customers the best products – the best quality.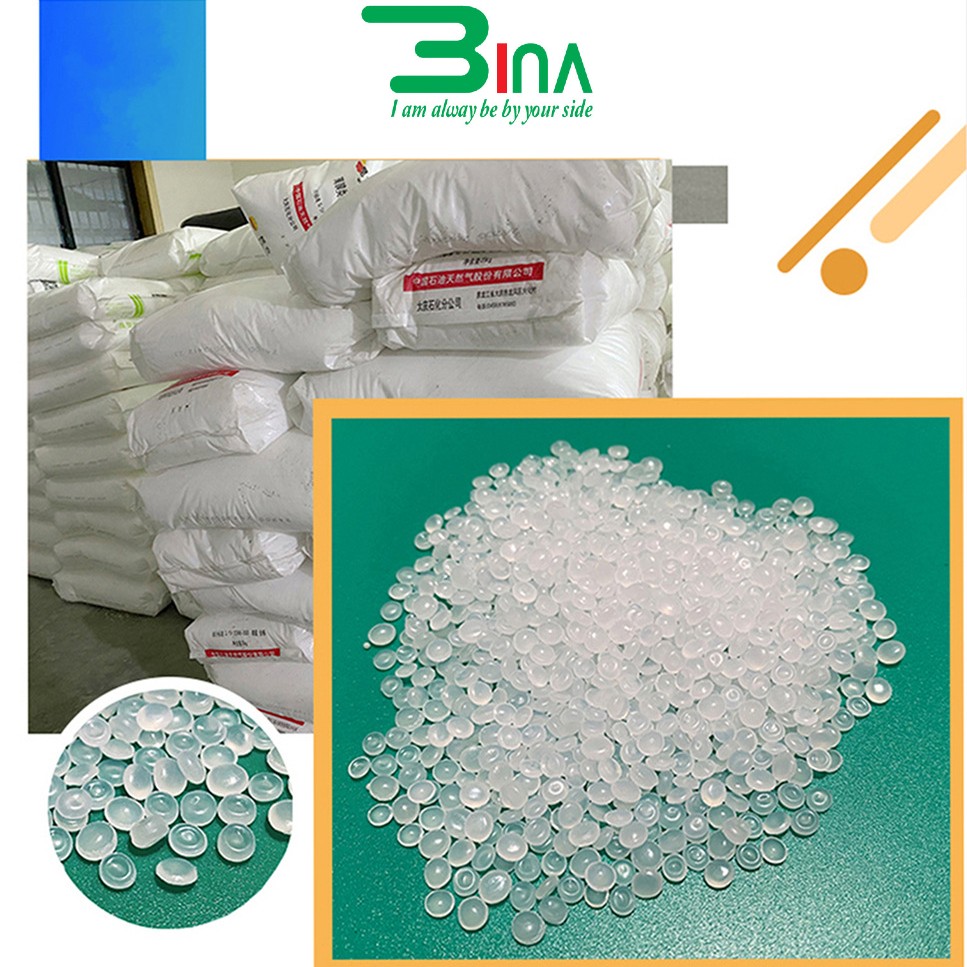 See more: Surface Protection Film
2.Feature of PE . film
The highlight of LDPE plastic resin is its toughness, the packaging film also inherits the stretch feature of up to 350% to help reduce the cost of wrapping goods. In addition, there is the adhesion of polyethylene film when wrapped together to create a solid structure to fix the product on the pallet. The film has a relative transparency to help identify the goods inside. Logo can be printed on your film to PR products to affirm the brand in the market. Films made from PE particles should carry all the physicochemical characteristics of Polyethylene including: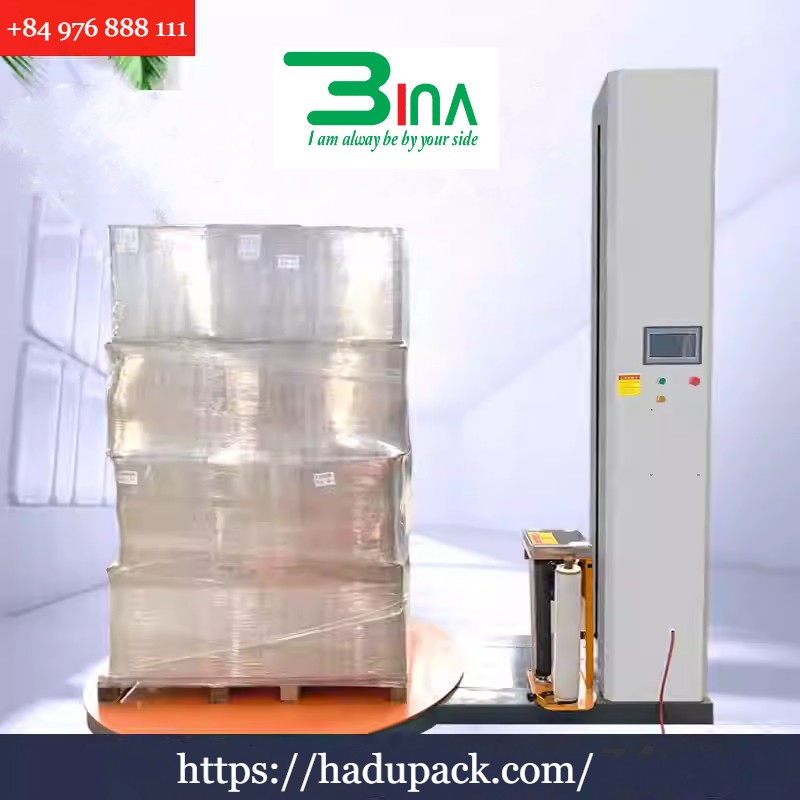 PE film (stretch film) has the following characteristics:
• ✓It is a transparent film, with a smooth, flexible and slightly translucent surface.
• ✓Very effective waterproof, dustproof.
• ✓Can waterproof gases such as: CO2, N2, O2 and grease.
• ✓Colorless, odorless, stretchable up to 300%, good adhesion.
• ✓The membrane will be damaged when it comes in contact with acetone, H2O2, alcohol, and aromatic essential oils.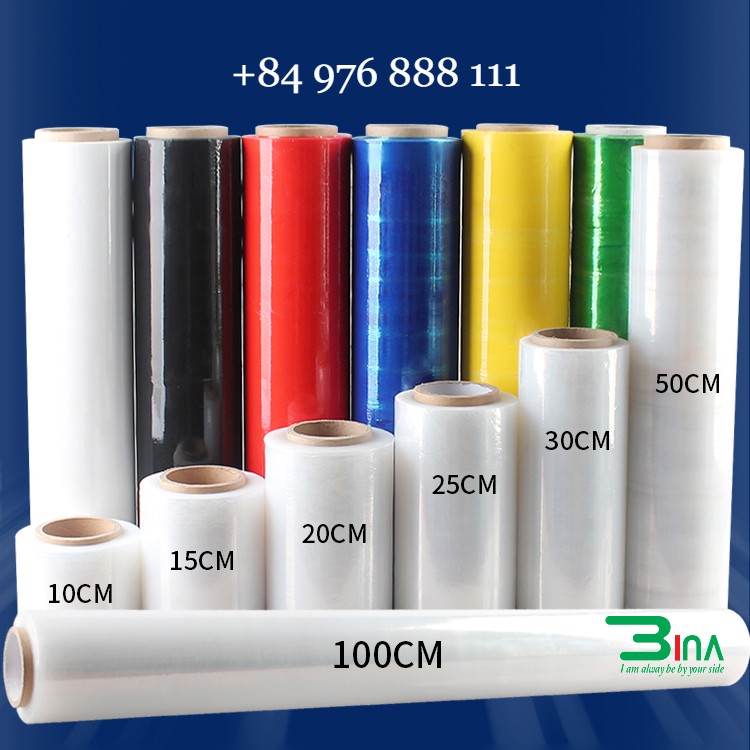 a. Physical properties
• ✓ The pe film is transparent white (colorless), odorless.
• ✓Does not conduct heat, does not conduct electricity.
• ✓High durability, elastic ability (300%), waterproof / greaseproof, not allowing air to pass through…
• ✓High melting point (120 °C), low vitrification temperature (-100 °C).
b. Chemical properties
• ✓At room temperature, the "stretch wrap" film is inert (doesn't react) with most solutions of potassium permanganate, acids, alkalis, bromine water, etc.
• ✓At high temperature (above 70oC), they are poorly soluble in substances such as mineral oil, turpentine, xylene, toulene, etc.
• ✓Insoluble with water, fatty alcohols, herbal oils… at any temperature.
3. Price list of PE film for pallet wrapping at Hadupack
Each type of PE film wrapped pallet is different, the product price is also different, the more customers order, the cheaper the product price will be. Below, Hadupack would like to send you a reference price list. For an accurate quote, please contact us at ☎️Hotline: +84 976 888 111.

4. PE Film production process at Hadupack
The PE film production process includes 6 steps:
✓Step 1: Mix polyethylene resin (PE granules)

✓Step 2: Put the mixed plastic beads into the extrusion – blow molding machine, the plastic particles will be melted gradually to 200 – 275 degrees Celsius. Then it is put through the filter to remove impurities as well as the raw materials that have not been timely. melted completely.

✓Step 3. Put the materials after melting and removing impurities into the T-shaped mold to spread the plastic evenly into each shaft.

✓Step 4. The plastic through the T-mold is transferred to the rolling pins to create a shape film for the product's size, thickness, and thickness.

✓Step 5. The finished PE film (Polyethylene film.) will be cleaned by pulling through a sealed water tank under the impact of vacuum.

✓Step 6. After the cleaning process is complete, the pe film is cut to the edge and rolled up.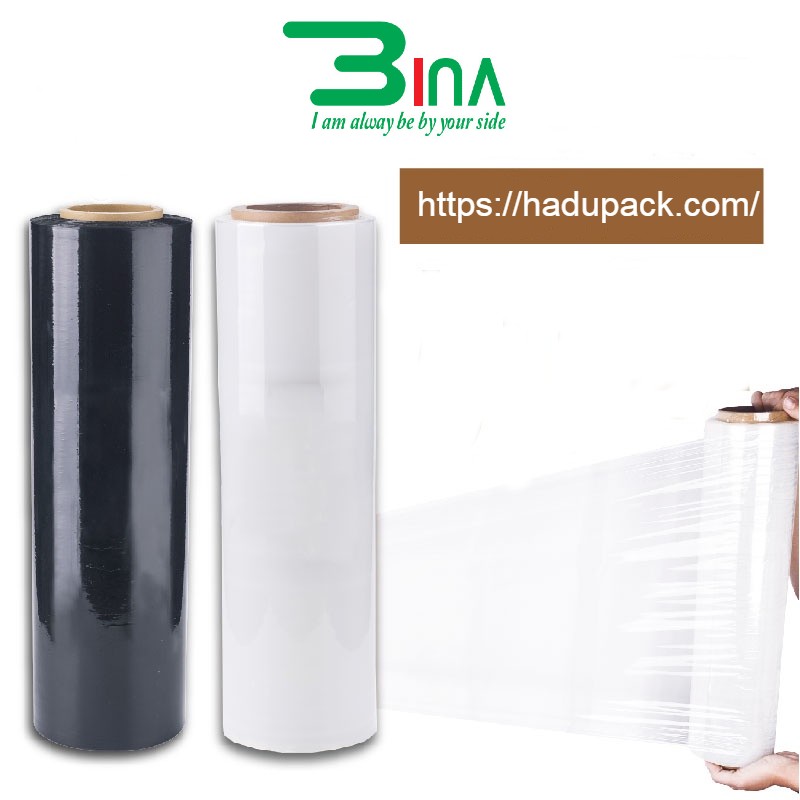 5. Uses of PE . Film
a. Waterproof
PE films are made from primary polyethylene plastic particles so they do not react with water, even at high temperatures. It is also with this feature that Stretch Film has been widely used to wrap products, making products waterproof.
b. Prevents Oxidation
In the air, there are components such as CO2, N2, O2….this is the cause of the oxidation of metal products, causing the products to peel and rust.
The use of PE film to pack and preserve metal products is considered an effective solution. Because Polyethylene (PE) Film is inert to solvents and impermeable to gases, your goods will be absolutely safe when peeled.
c. Anti-dirt
In the process of transportation and storage, it is inevitable that dust from the environment will be avoided, these dirt will gradually become large plaques that make the product become old.
The use of PE film to wrap goods will create a barrier to prevent dirt from sticking to the goods.
d. Avoid jostling, scratches when collision
Collisions are inevitable when moving goods, they will cause your products to be displaced, scratched, broken, lost ……. Therefore, when transporting from one place to another, whether near or far, you still need to use Polyethylene (PE) Film to wrap.
e. Prevent loss of goods
When using PE film to wrap the goods, it will help the goods to link together in a unified block. To steal, you have to cut the outer film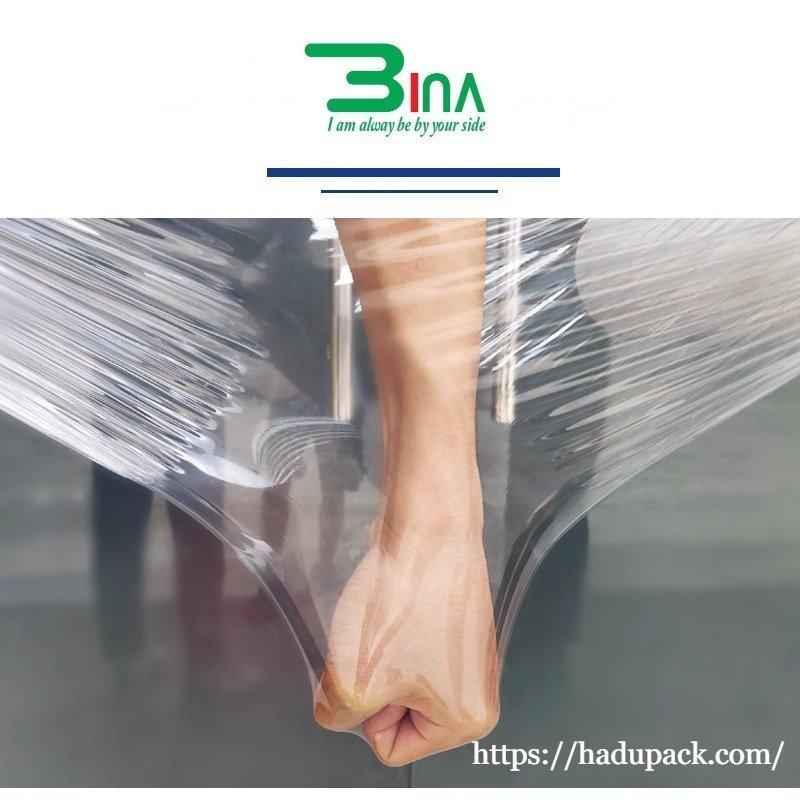 6. Types of PE Film are popular today
On the market today, there are many types of Polyethylene Film (PE), we can divide PE film into 2 main groups:
1. Hand-wrapped PE film
Hand-wrapped PE film has common sizes such as PE rolls of 2kg, 2.4kg, 3kg, 3.5kg, widely used for packaging in industries such as seafood, sewing, garment… with adhesion. high, high tension.
2. PE film wrapping machine
PE film wrapping machine has the following common sizes: 3.8kg, 5kg, 10kg, 15kg . Pe Roll film
The use is the same as the hand-wrapped PE film, but the larger size is used to wrap large-sized products and goods such as exported timber or bulky and heavy machinery.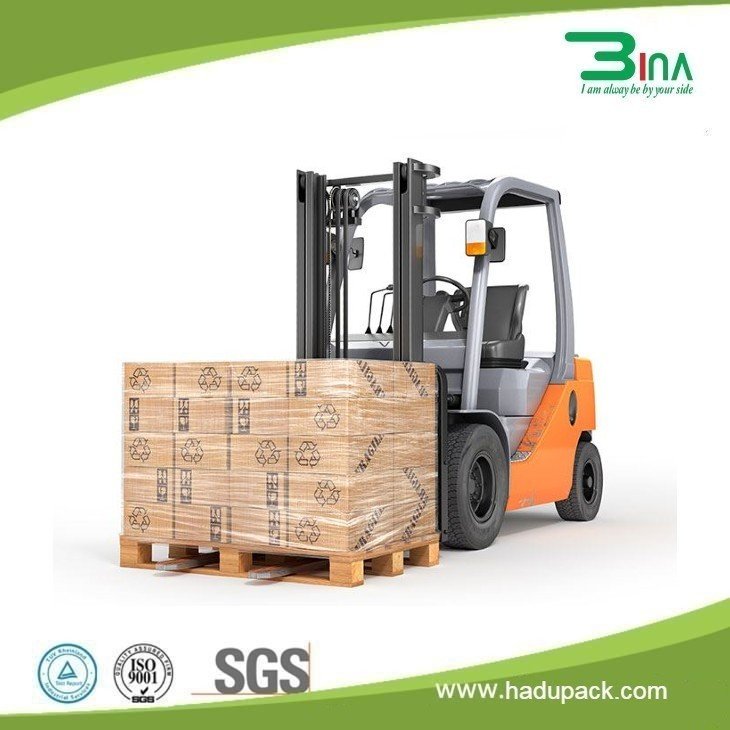 7. HOW TO CHOOSE GOOD QUALITY PE FILM
Before buying PE film, you should carefully consider the object that you need to use PE film, this is determined on the factors of size, height, length, width, the characteristics of the goods as shown in the picture. shape, size, packing specification…
In order to estimate the number of PE loops from here, to make a suitable choice about the minimum length of PE film. As a result, it is possible to buy the right amount of PE film without excess and without shortage, minimizing consumption costs.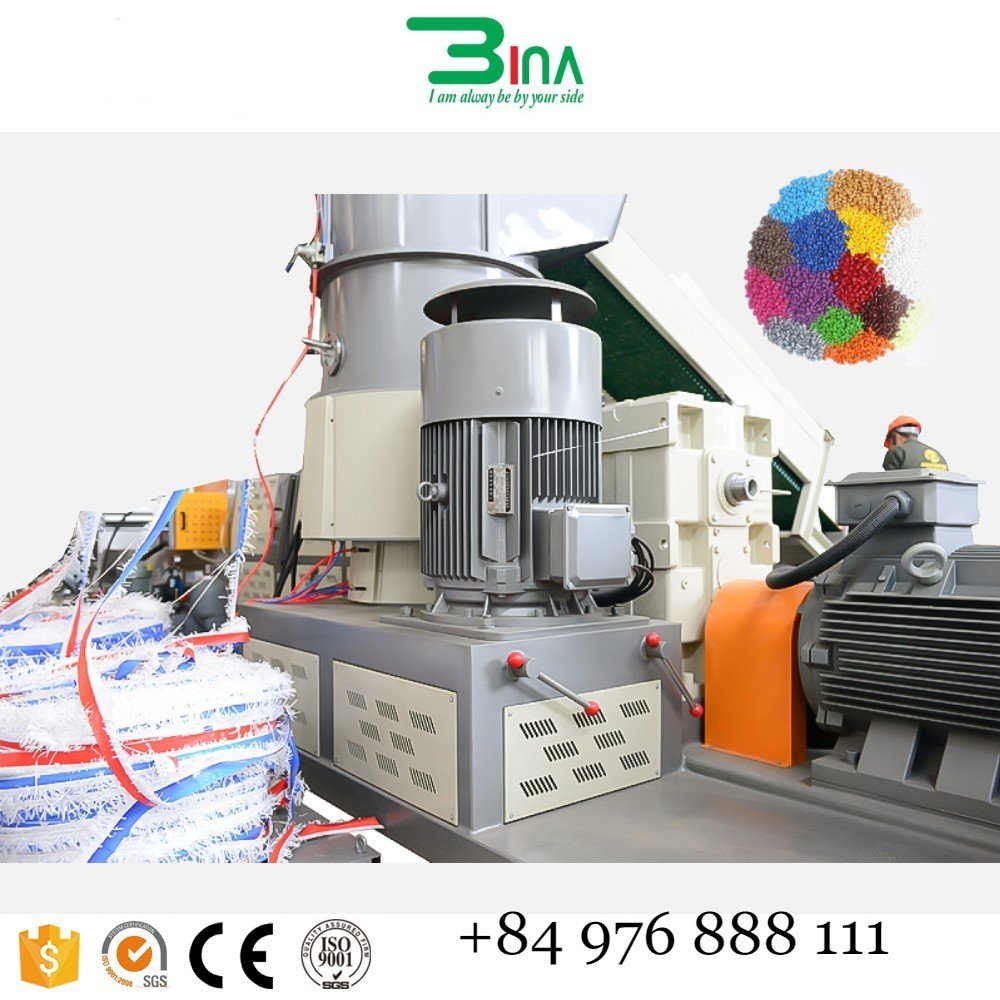 8. CHECK PE FILM QUALITY BEFORE BUYING
When buying PE film, you should check the color, elasticity, absorbency… as well as the thickness of the PE film, because these factors are the factors used to evaluate the quality of the PE film.
PE film is produced from Polyethylene beads, so it has high elasticity. The characteristics of PE film are colorless, thin, smooth, and impermeable to water, so when you see a PE film that is opaque, thick, has poor elasticity, feels brittle, or is rough, it means that PE film has already been used. impurities in the manufacturing process. These types of films are often of poor quality, low durability, so they break quickly, when packaged, the product looks rough and unsightly, so you should distinguish the types of PE films to avoid buying.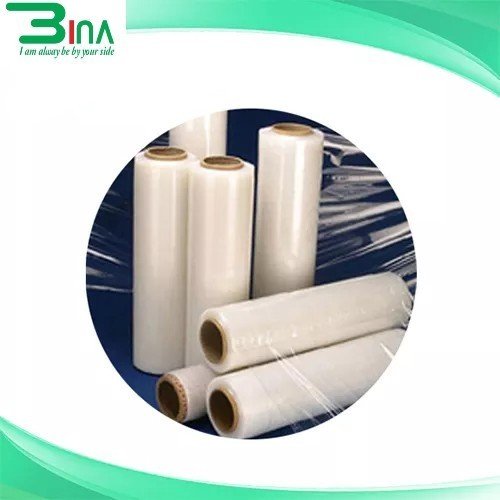 9. Address to buy prestigious quality Pe Membrane in Hanoi.
If you only buy a few rolls of PE film to wrap your goods, you can go to any dealer to have packaging materials. However, when you buy in large quantities, it is extremely necessary to consider choosing a reputable – quality – reasonable price manufacturer.
Choosing a reputable PE film production company will help you get a favorable price, ensuring that the goods will be delivered on time and according to your requirements. In addition, you will be more assured, avoid encountering fake goods, poor quality goods.
Hadupack is proud to be the company specializing in the production and supply of PE film (stretch film) at the cheapest price today, with modern machinery system, advanced production process, we are confident to bring to our customers the best products. Best product – best quality – cheapest price. We have a network of branches throughout Vietnam from Hanoi to Ho Chi Minh City (HCM). If you want to buy, please contact ☎️Hotline: 0976 888 111 for quick and timely service.

10. WHY SHOULD I BUY PE FILM AT BINA VIETNAM INTERNATIONAL CO., LTD?
Hadupack's operational goal is to always put the requirements and satisfaction of customers first, we rely on the evaluation of our customers to build the brand and move forward today. Therefore, the products that have been and are being manufactured by us have been through a very strict screening and testing process, ensuring that the products are suitable for each of its quality segments, with a guarantee of no defects. counterfeiting, imitation goods, or providing poor quality PE film products to customers.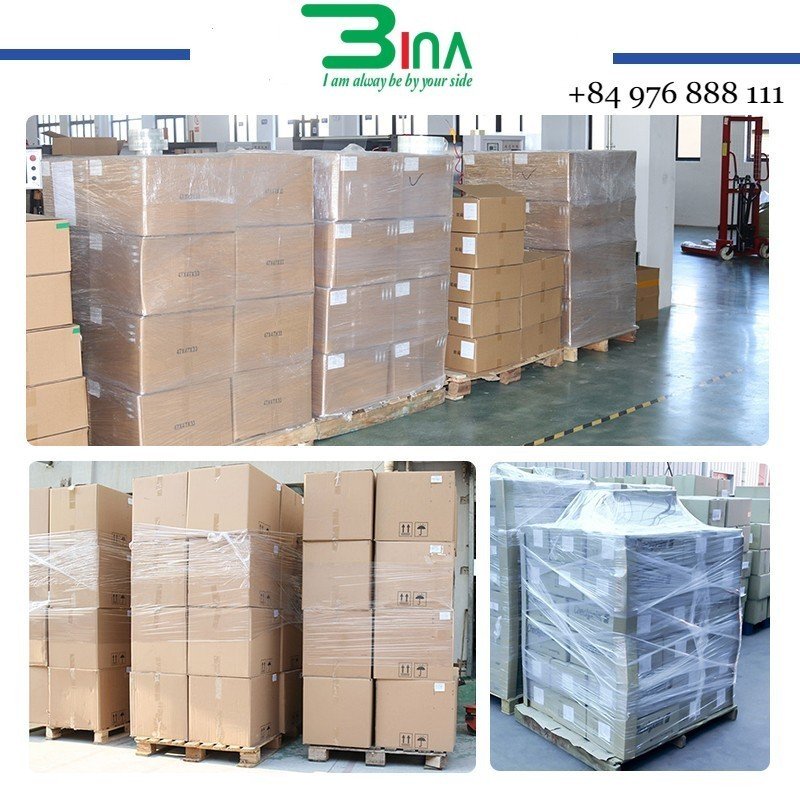 11. How to use shrink film to wrap goods and pallets?
To use PE film to wrap for packages, pallets or cartons, there are many ways to manipulate it.
Among the most popular are the following 3 ways:
a. Manual hand wrap
✓This is how to use 2 hands on the 2 ends of the shrink film to run around to wrap the package.

✓This manual way of wrapping shrink wrap is suitable for the needs of families, small businesses or infrequently used.

✓Advantages: no need to invest in equipment or tools to support film wrapping.

✓Disadvantage: This method is laborious, time consuming, low efficiency and wastes membrane.
b. Use a manual pe film wrap for support
✓Instead of holding two hands on the two ends of the film roll, there will be a hand tool to wrap the film to support this, making your operation more convenient and flexible.

✓This old manual laminating tool can let you adjust the tension of the film through the tightening thread.

✓This manual shrink wrap method is suitable for the needs of families, small and medium-sized production businesses.

✓Advantages: faster operation, more convenient hand-holding, shrink film is tightly wrapped on the goods, helping to increase wrapping efficiency and save film.

✓Cons: Expensive to buy a hand-held wrapping tool.
c. Using Automatic Shrink Wrapping Machine
With the effective support of a fully automatic electric pe film wrapping machine, it will help you wrap films extremely quickly, especially pallets or cartons.
Using a shrink wrap machine.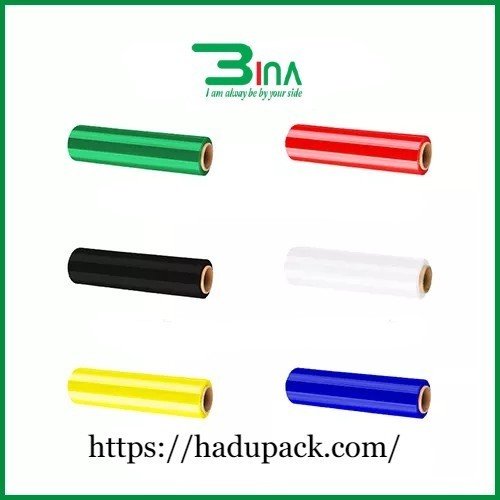 Myths about stretch film:
Using stretch film to stabilize and protect pallets when transporting goods is very popular with many businesses. Improperly wrapping the pallet puts the product at risk of significant damage during transit. The load stability of a pallet depends on how the film is wrapped and the type of film suitable for wrapping the pallet.
When it comes to choosing stretch film, there are a number of myths or misconceptions about its usage that cause some businesses to avoid using it.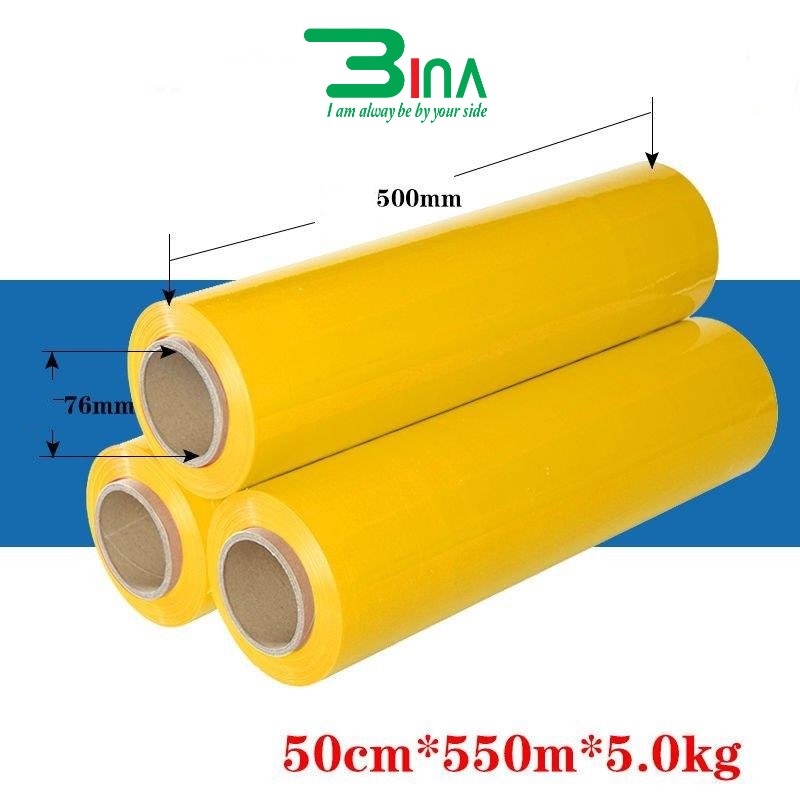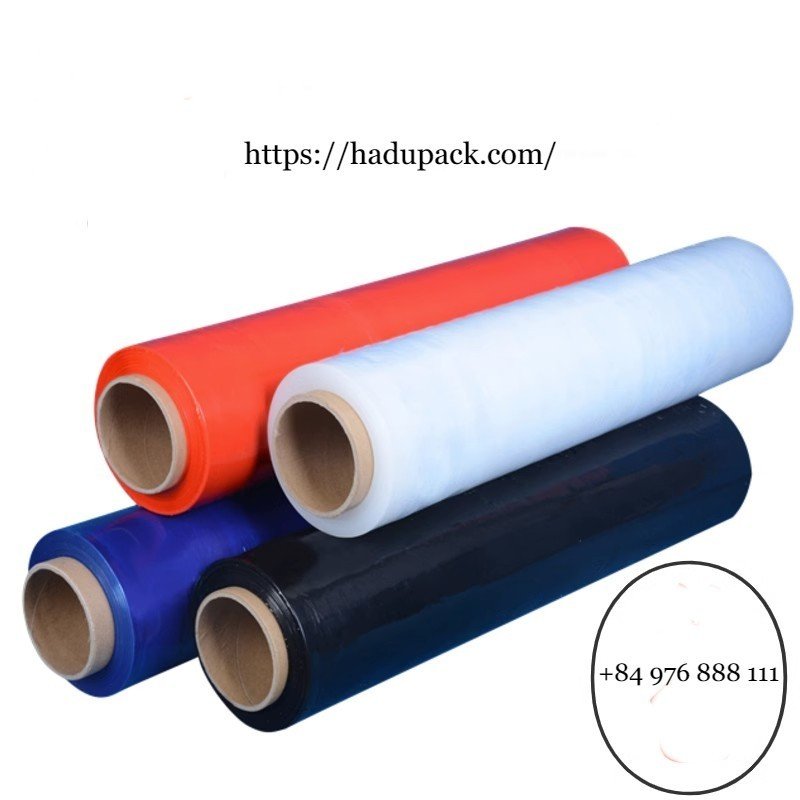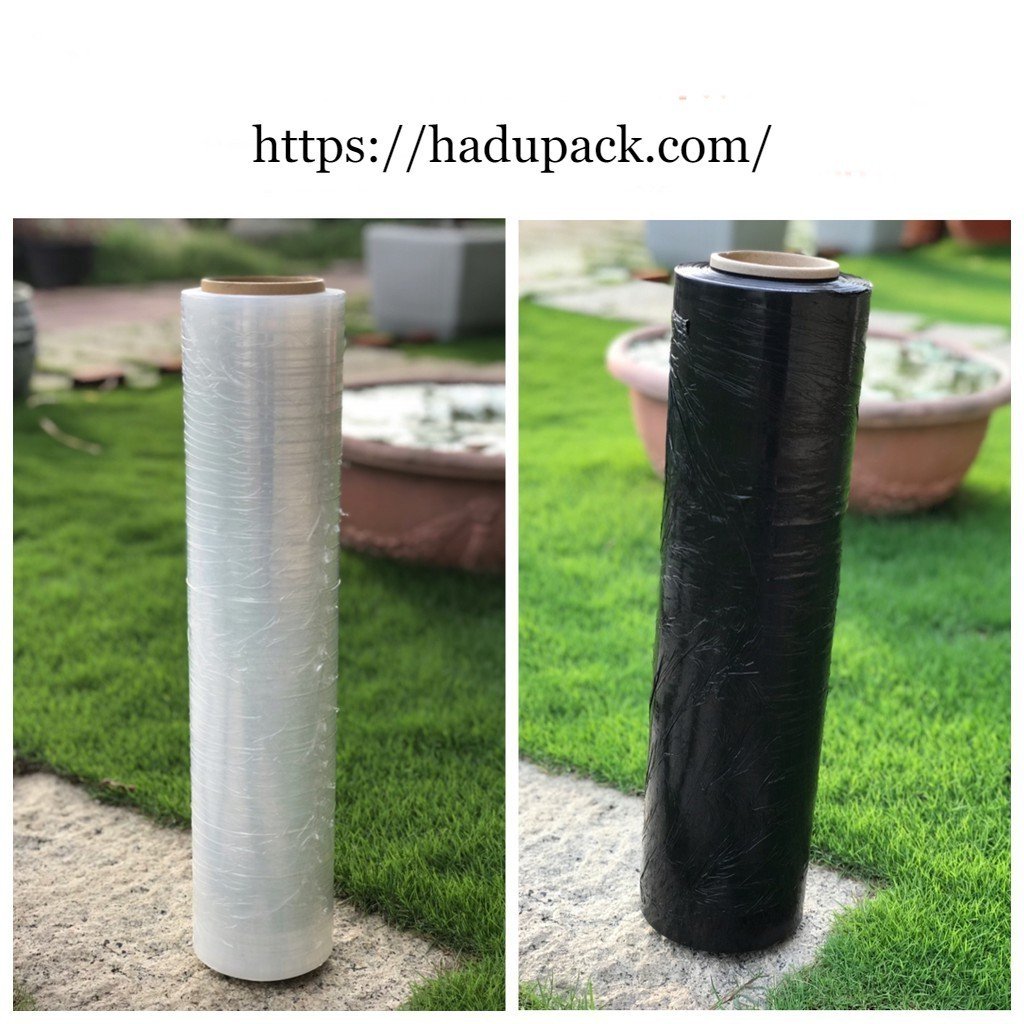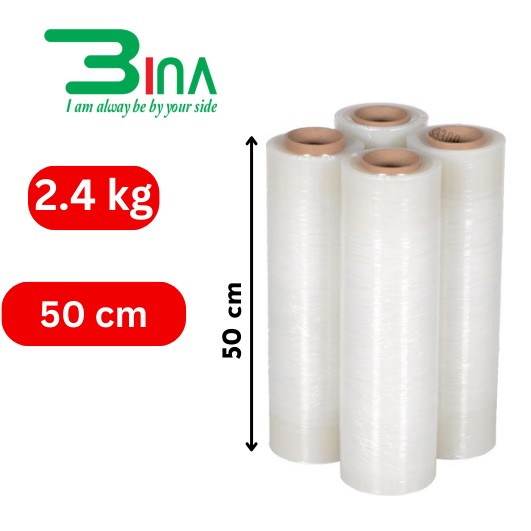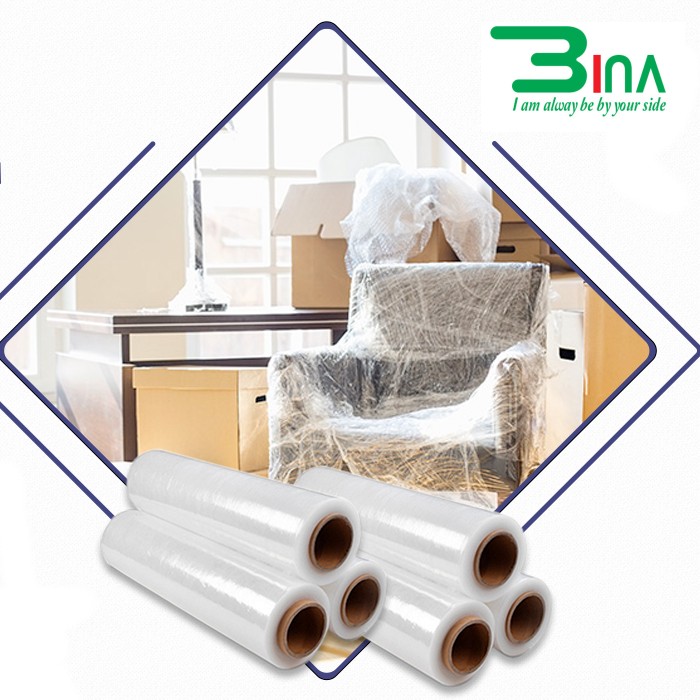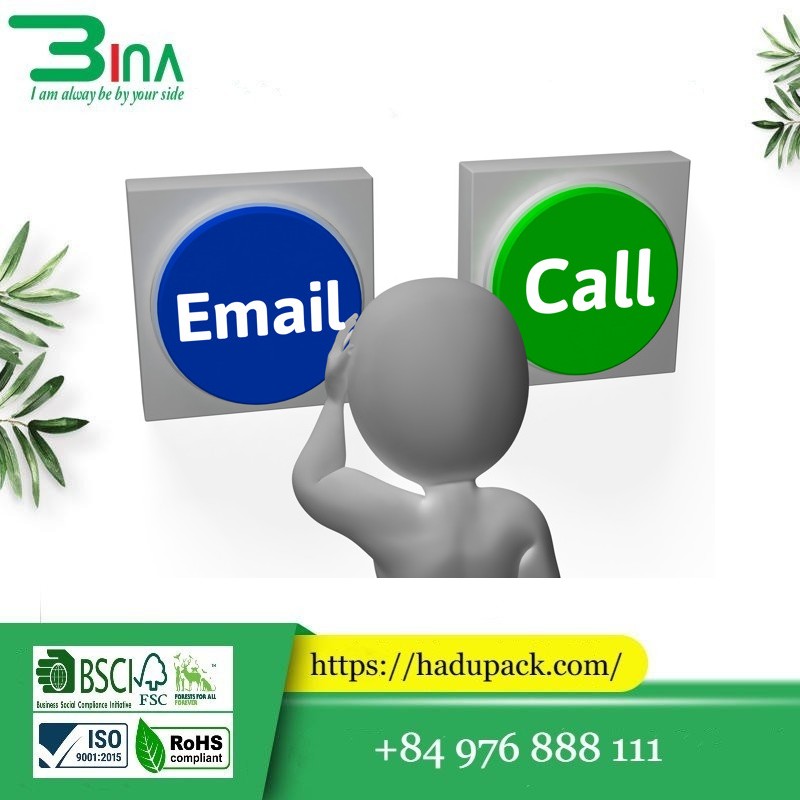 1.Hand wrapping is cheaper than machine wrapping:
Hand wrap is only suitable for wrapping needs of less than 10 pallets per day. Wrapping pallets by hand can actually cost you more than using machines. The reason for this is the amount of time it takes you to wrap a large number of pallets. Using the machine to wrap your pallet will save you more time and money to develop other jobs.
2.Cheap stretch film saves you money:
Many people mistakenly believe that cheap stretch wrap will save them money. This is also a misconception because cheap wrapping films are often poor quality and you have to use more than regular stretch films to make sure the pallet is strong.
3.Your pallets look safe
Just because your pallet looks safe doesn't mean it's safe. Don't confuse the look of your pallet with its safety. You need to physically test the stability of the pallet load every time you pack a shipment by pushing, shaking it. This is the best way to ensure that your items will be safe during transit.
4. Apply a pallet wrap to all cases:
Consider the number, size, and weight of items you are preparing to ship for which wrapping methods are applied, with fewer or more wraps.
5.The pallet wrapping machine is too expensive:
Not all film wrapping machines are expensive or unreasonably priced. Depending on your needs, you may be able to find an affordable machine for your needs in no time.
6.Using shrink film to stretch:
Shrink film and stretch film look quite similar from the outside, many people think that it is also used to wrap pallets similar to stretch film. See more details at:
Difference between shrink film and stretch film
If you own a shipping business or company that uses stretch film to wrap product pallets on a regular basis, this information may be useful to you. Don't let misinformation stop you from achieving the business goals you've set. Now that you know the truth about pallet wrap, start shipping your products with the assurance that your customers keep coming back.
And don't forget, Hadupack is the nation's best stretch film manufacturer & distributor. We pride ourselves on helping customers from a variety of industries of all sizes save 15-40% on their stretch film costs. 

Contact information for placing PE stretch film
BINA VIET NAM INTERNATIONAL LIMITED COMPANY
Room 403, 4th Floor, Ocean Park, No. 1 Dao Duy Anh, Phuong Mai Ward, Dong Da District, Hanoi City, Vietnam.
+84 976 888 111
www.hadupack.com
Salehadupack@gmail.com