Description
What is opp bags?
OPP bags is a kind of plastic bag, OPP stands for Oriented Polypropylene. OPP packaging is completely transparent or light-colored, with no stretch at all. Most transparent bags are made of OPP material. Convenient, good performance and versatile.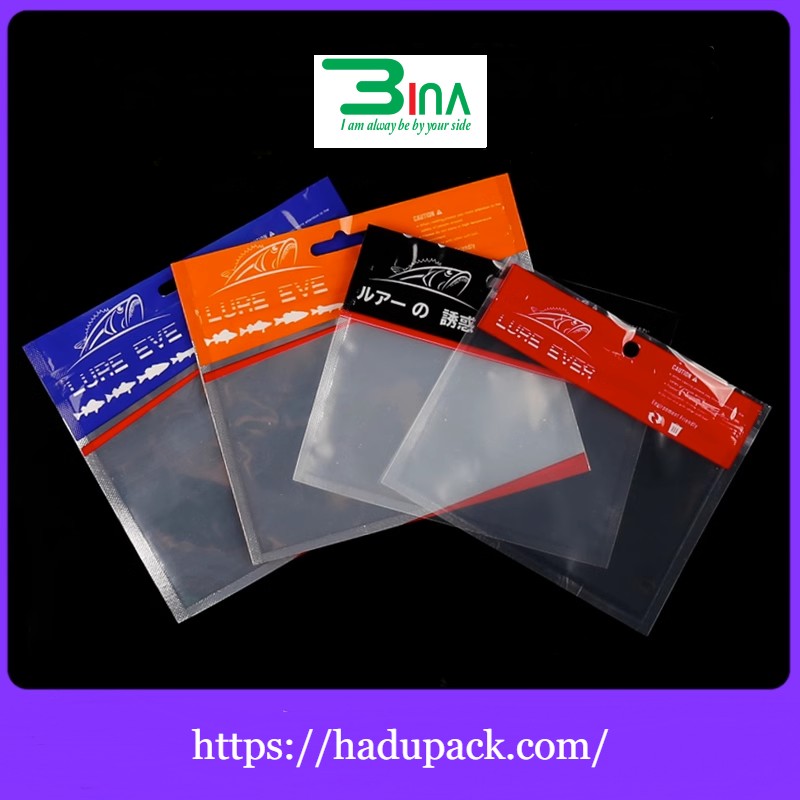 Features and properties:
✓OPP bags are flammable, melt and shrink, turn yellow-green, after extinguishing the fire, there is little smoke and continue to burn.

✓Melting temperature is from 130°C ~ 145°C.

✓Odorless, odorless, non-toxic, insoluble in water, slightly soluble in hydrocarbons, toluene

✓Density about 0.920g/cm³

✓Very good scratch resistance, gas and water resistant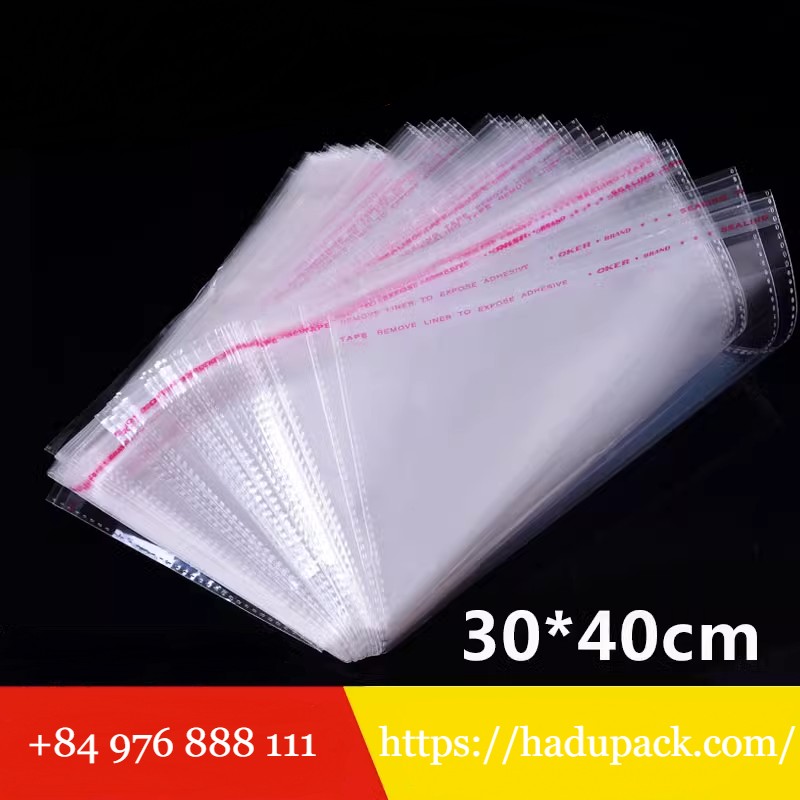 8 Advantages of opp bag:
✓OPP bags are made up of 2 layers of polypropylene film, which is an oriented, stretchable PP film. OPP bags have many outstanding advantages over PP bags

✓Increasing product beauty: OPP packaging is thin and has high transparency. Therefore, the products inside the bag can be easily seen. The freshness of the food or the fabric in the garment industry is very clear.

✓Food hygiene and safety: OPP materials can be in direct contact with food without causing any adverse effects. The use of opp bags also helps a lot in extending the shelf life of food. product. The polypropylene film does not allow the formation of mold in the bag.

✓The OPP bag is eco-friendly and can be easily recycled

✓The performance of these bags is very good. It saves time and is easy to use.

✓Air outlet hole design to prevent condensation

✓The use of these bags also helps to save on packaging and shipping costs.

✓Sharp printing: sharpness and highlights when printed on OPP packaging are superior to PP and PE bags.

✓Strong heat sealing: after the heat sealing process, the bag is very strong and durable.
How to distinguish PP and OPP bags:
With the naked eye, it is very difficult for us to distinguish between OPP and PP. These 2 types of bags can be distinguished by the difference in touch, as PP is soft while OPP is brittle, easily wrinkled when crumpled.
When the OPP bag is burned, it will turn yellow or green.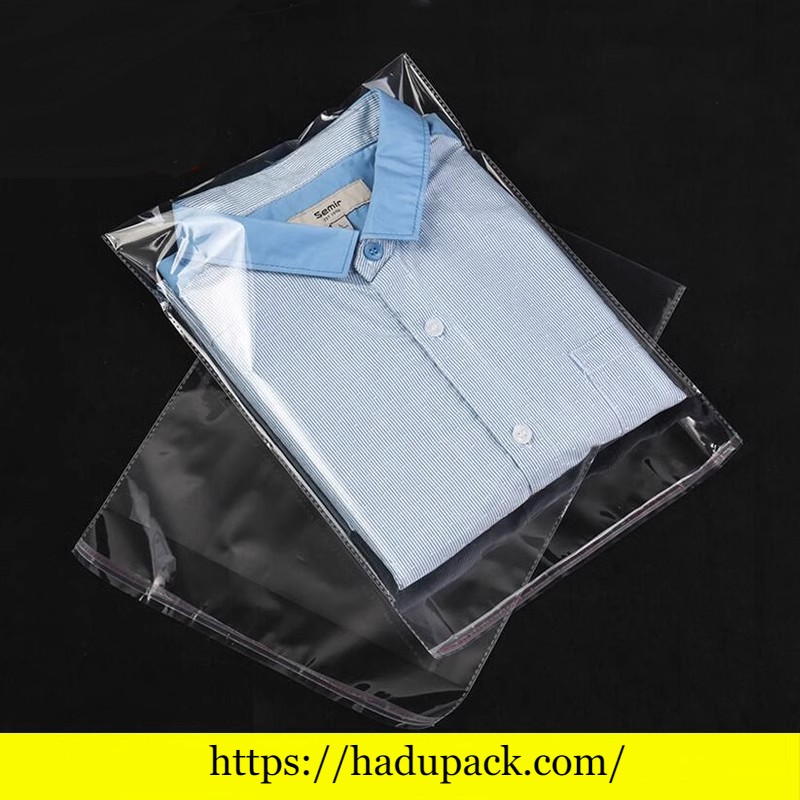 Popular types of opp bags:
1.Usually OPP bag:
This is a type of plastic bag that can be found everywhere in the market. Most transparent packaging bags are made of opp material.
2. opp bag with mouth masking tape:
This type of packaging has a layer of glue at the mouth of the bag, which can be easily peeled off. Widely applied in garment, fashion, food, stationery, cosmetics, paper and other industries.
3. Stand up OPP bag:
The bottom of the bag is designed in a rectangular shape, to pack and protect products of considerable thickness, such as fruit, bread, stationery…
4.OPP hip bag:
Fold the sides of the bag to increase the space for the bag to hold more products than a regular three-sided bag.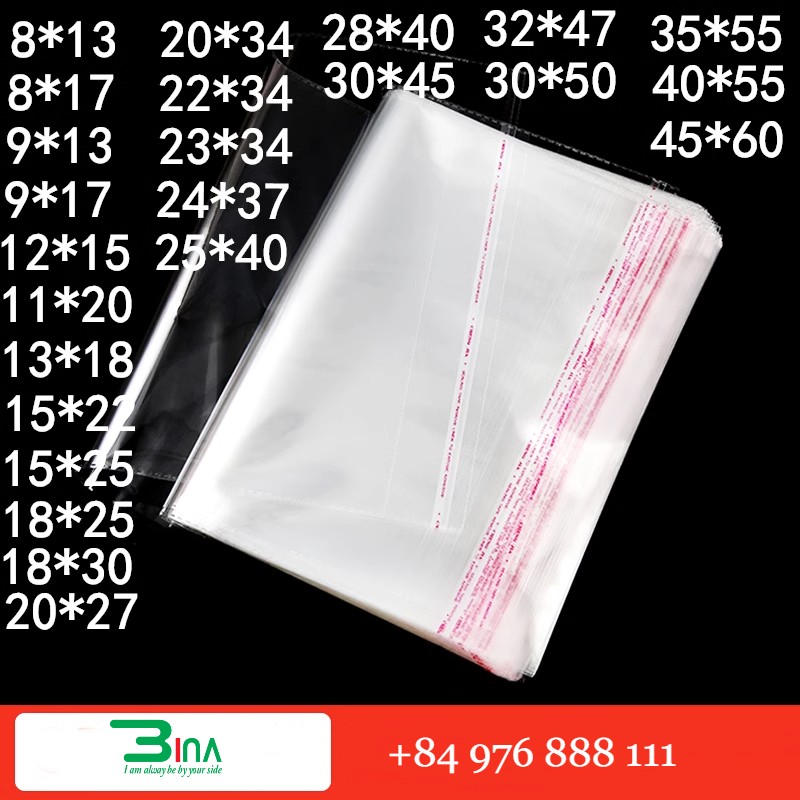 Buy plastic opp bags:
Hadupack offers a wide range of OPP bags for use in a wide range of applications, from the textile industry to the food industry, with a customer base spanning the country.
Please do not hesitate to forward questions to us by email or phone. We will be happy to advise you on the full range of your OPP bag requirements.
See more: ANTISTATIC BAGS