Description
Supplying High Quality PET Plastic Straps
PET strap roll (PET strap roll) is one of the effective new applications of the current belt industry material, widely used in many fields and very diverse in the product packaging, product strapping and other industries. 
The application of quality PET plastic belts has superior features compared to the current traditional steel belts, advanced production technology and fully automatic production lines.
We always ensure perfect quality in each product, with very high aesthetics, variety of models, sizes, types of products, exported to many countries around the world with the current types on the market. 
See more: PP strap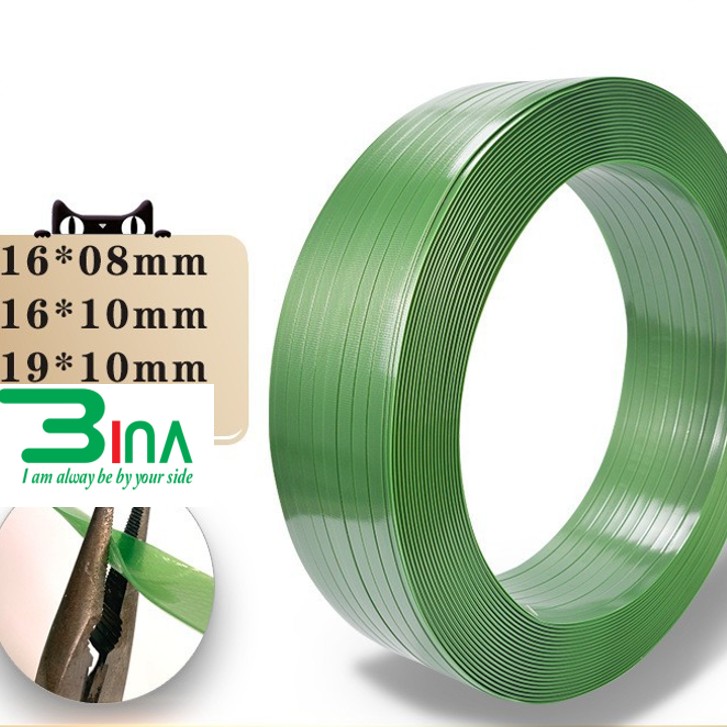 Product Information PET Straps
For packaging products, pet plastic straps bring other advantages such as: providing products with a variety of designs and types in both colors.
The product does not chip or scratch the product line, does not burst, does not cause oxidation, ensures tightening force, tightness and vibration resistance for each product, the best price.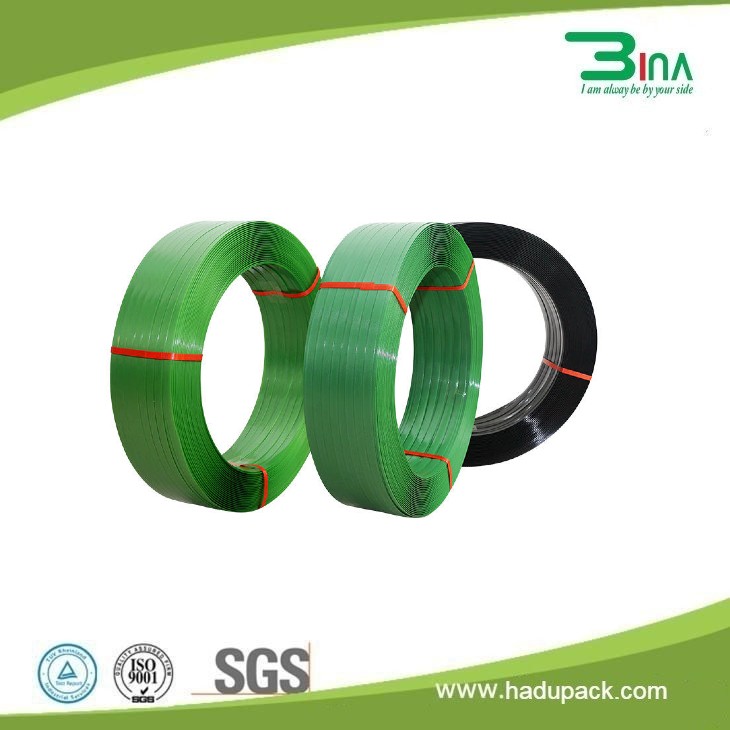 Product specifications
✓Product packaging: 21-22 kg / 1 roll.

✓With paper core diameter: 406mm, 200mm with a weight of 1kg.

✓With colors: Diversity, smooth wire, checkered.
PET plastic straps are recognized as a new kind of environmental protection packaging material to replace steel straps. It can save about 50% cost compared with steel belt.
Products have been used in various industries such as aluminum billet, glass, ceramics, wood ply, building materials such as stone, marble and brick, paper, cotton baling, baling yarn, clothes bailing , steel plate, steel pipe, etc…
| | | |
| --- | --- | --- |
| Specification (mm) | Bearing capacity (Kg/mm2) | Number of meters/kg |
| 9,2 x 0,63 | 261 | 131 |
| 12,7 x 0,6  | 343 | 99 |
| 15,5 x 0,8  | 558 | 61 |
| 15,5 x 0,9 | 628 | 54 |
| 16 x 0.8  | 576 | 59 |
| 16 x 0.9 | 648 | 53 |
| 19 x 0.9 | 769 | 44 |
| 19 x 1.0 | 855 | 40 |
Highlights of PET Straps:
✓Cost saving about 50% compared to steel straps: PET straps are about 6 times longer than steel straps at the same size. Through comparison and analysis of PET straps and steel straps as well as actual data, we have learned that 25mm * 1.2 mm can replace 32mm * 1mm steel straps for heavy packing . The density of the PET band is only 1/6 of the steel strap. Therefore, for heavy industries, like glass, aluminum billet etc., 50% cost savings can be achieved compared with steel belts.

✓Safe: Can hold 5% holding power and won't loosen for a long time. With strong impacts it can still keep 5% stretch to ensure the safety of packaged goods. The rope has no sharp edges like steel straps, so it won't damage the packaged goods and hurt the user during packing and unpacking.

✓Environmental protection: The product is made of new environmental protection materials. It has the features of damp-proof, rust-proof, water-proof, anti-corrosion and pollution-free.

✓Meet the requirements of environmental protection and not subject to export restrictions. Moreover, the products used can be recycled to produce plastic ropes that do not pollute the environment.

✓Convenient: PET straps are very light and can be easily packed. Compared with steel belt, the product is easy to operate and greatly improves working efficiency. Operator does not need to wear gloves when packing.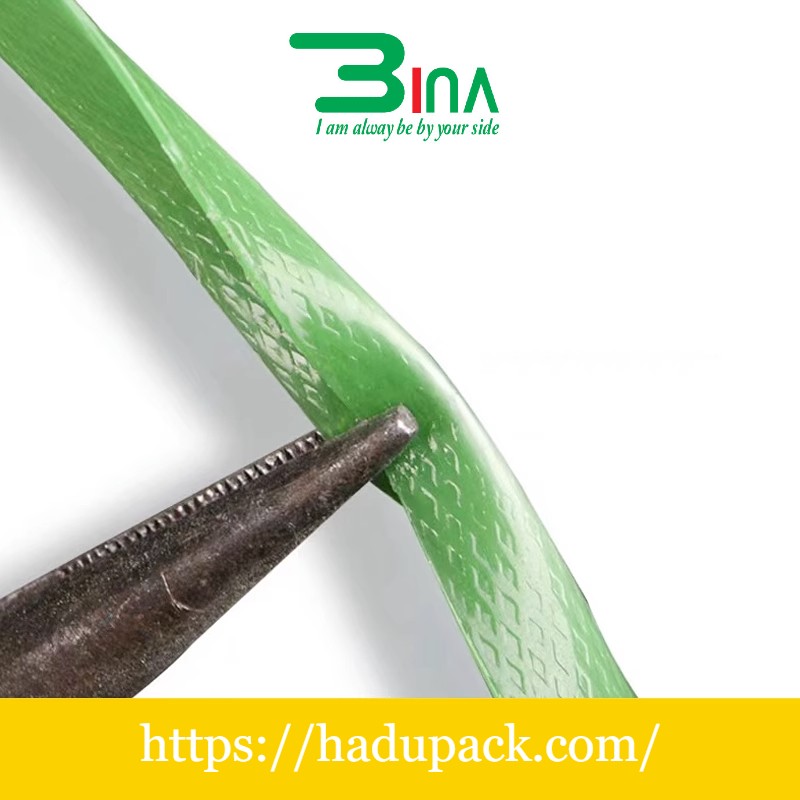 Advantages of PET straps Used to tie bricks, pack boxes:
PET plastic belts are used by attaching to the shaft of the belt discharging device or into an automatic strapping machine that uses the belt to brace packages and materials for product transportation.
Advantages: of the product is high strength and recyclability (so this is an important feature because some advanced countries only allow the use of recyclable plastics), heat resistant, grease, non-degradable chemicals, high moisture resistance, strong impact and folding resistance, so it will not loosen when packaged, maintain and long-term stability.
Where to buy pet plastic straps, please contact us. The unit specializes in manufacturing, importing and exporting in provinces and cities across the country.
PET plastic strapping is an effective application of new materials today and is widely used in many fields, popular in the packaging and strapping industries.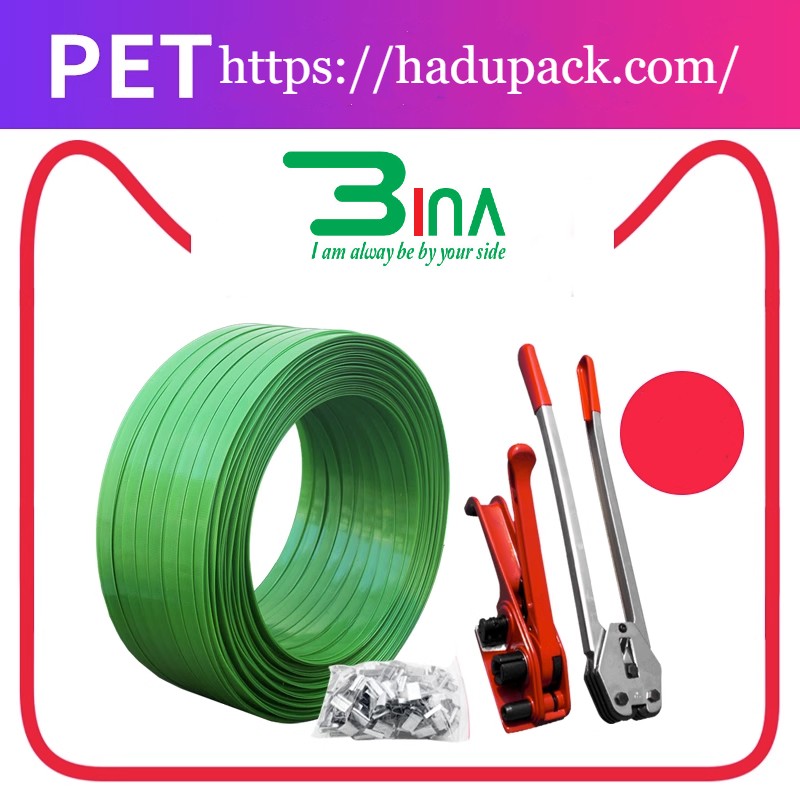 Comparison of PET and PP belts
Tensile strength of PET straps compared to PP of the same thickness and width
PET (polyester) straps are very good and reliable, because basically polyester straps of the same size will be strong, bearing 2 times more force than PP straps. Often used for palletizing or high-load packaging needs. PET strapping is a material that can replace steel wire in fastening applications with equivalent strength but cheaper price than steel wire.
Traction force on the gauge, calculated in units: KN, Kpa. The higher the tensile strength of the belt, the better the quality.
On Hadupack's traction gauge with PP and PET straps of the same size with the following parameters:
PP belt with tensile strength = 2000 – 3000 KN = approx. 204kg – 306kg

PET straps withstanding tensile force = 3500 – 7500 KN = approx. 357kg – 764.8kg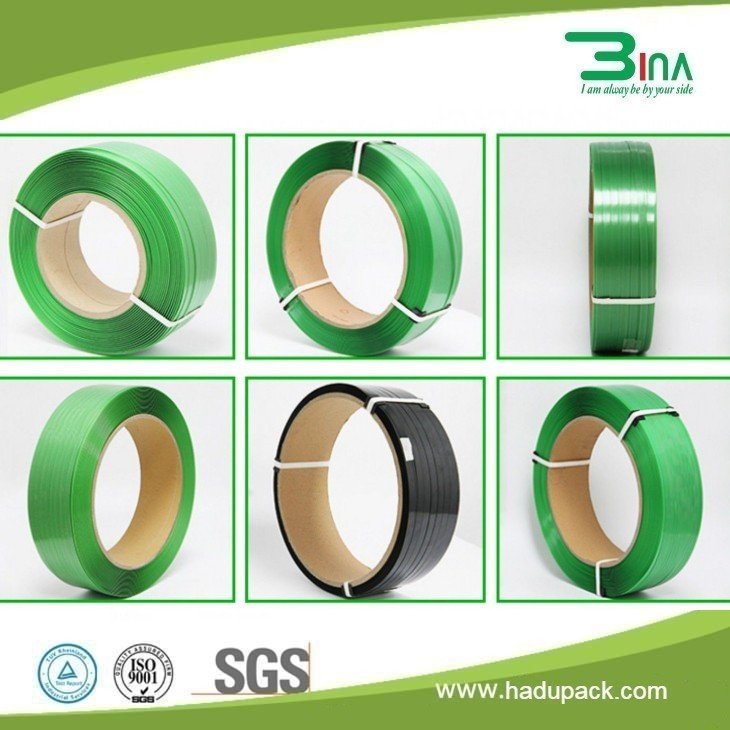 Benefits of using green PET straps over steel belts
There are misconceptions that polyester straps are not suitable for heavy loads like steel straps. The polyester used to make straps today is very advanced and comes with many unique benefits:
Safety for the user
Polyester straps are safer to handle than steel straps. When comparing reels of equal length, polyester straps are significantly lighter. Polyester offers greater operator safety as it does not have the sharp edges commonly found on steel belts.

Steel belt operators are required to wear gloves for protection otherwise there is a risk of serious injury. For PET straps once removed, discarded polyester straps can be easily collected by wrapping them up and throwing them in the trash or storing them for recycling.

Reduce environmental impact
The overall environmental impact of polyester straps is much lower than that of steel. In the production process, polyester is extruded from virgin plastic raw materials. Steel, on the other hand, is an energy-intensive forging process.

The use of lighter PET belts also reduces the overall weight of the cargo. This helps save fuel, and transportation costs, reducing emissions into the environment.

Polyester straps are recyclable and new belt products can be created.
Increased performance and durability
Polyester straps manufactured by Hadupack have the properties of steel straps and offer many performance advantages at the same time.
High tensile strength and high elasticity. Good elasticity helps the rope absorb shocks without breaking, losing the ability to hold loads like steel wire.

UV resistant to prevent straps from weakening when stored in outdoor areas.

Unlike steel that rusts when wet, polyester straps will not yellow on contact like steel straps.
Cost savings for businesses
The unique quality of the belt makes it the perfect alternative to steel straps:
Save 30% compared to steel, less volatile in price than steel belt.

Using large-format belts, the length is many times longer than conventional ones to save storage space and reduce budget.

Polyester straps are very flexible, adapting to the load. elongates and contracts as the load changes.

Reduce the weight of the goods.

Reduce user fatigue.

Reduce shipping costs.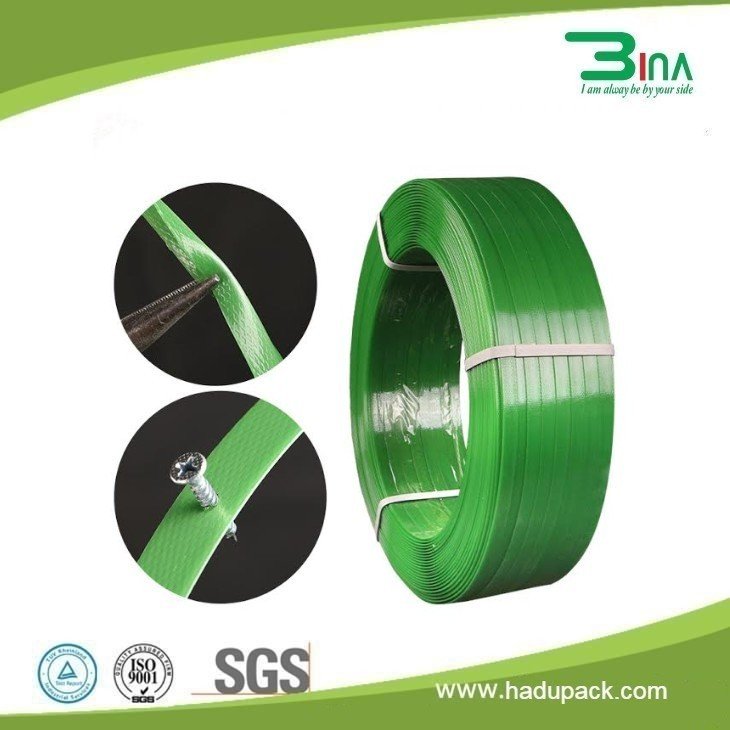 PET strapping quote
The price of PET straps is higher than PP straps. In case you do not know which belt to choose, first consider the weight of the product, the goods, then your budget, and finally the shipping conditions. This will help you avoid waste.
The price of PET strapping depends on the width of the rope.
Available in widths: 9.2 – 12 -15 -16 – 19 – 25 (mm) with adjustable thickness from 0.5 – 1.2 (mm)
You choose the width of the wire and call Hadupack to receive the correct advice by Hotline: +84 976 888 111.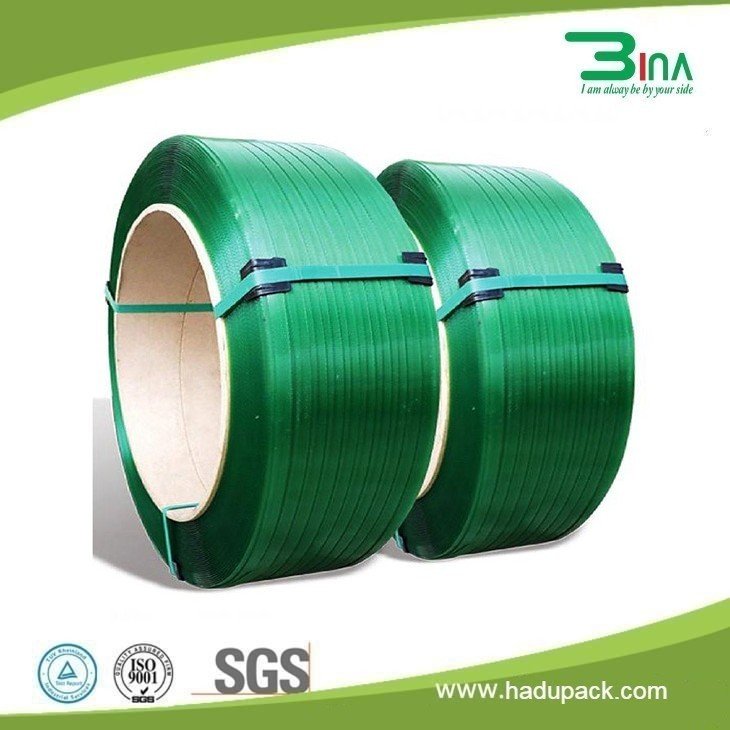 Production of PET straps according to ISO 9001:2015 management system
PET straps can be recycled and used over and over again, which can provide long-term benefits. This is an important advantage in creating a competitive advantage.
In the process of integration into the TPP, businesses that want to achieve these standards need to use not only environmentally friendly goods, but also environmentally friendly packaging box and strap components. In the advanced countries of the world today, only recyclable belts are allowed.
In addition, polyester straps are extremely easy to use in automatic and semi-automatic packaging machines.
BiNa Vietnam International Co., Ltd.'s polyester (PET) straps are tested and recommended for all well-established packaging machines. Quality control is absolutely the rule and applies to the ISO 9001:2000 quality standard. Customers around the world have trusted and used our belts.