Description
Paper cups and life applications
Currently, the need to use paper cups to protect the environment and promote health is increasing. Hadupack specializes in manufacturing all kinds of paper cups and disposable paper cups, without intermediaries so the price is extremely cheap. Below is some information about the models and prices of paper cups and paper cups that we currently distribute.
☞Explore more: White tissue paper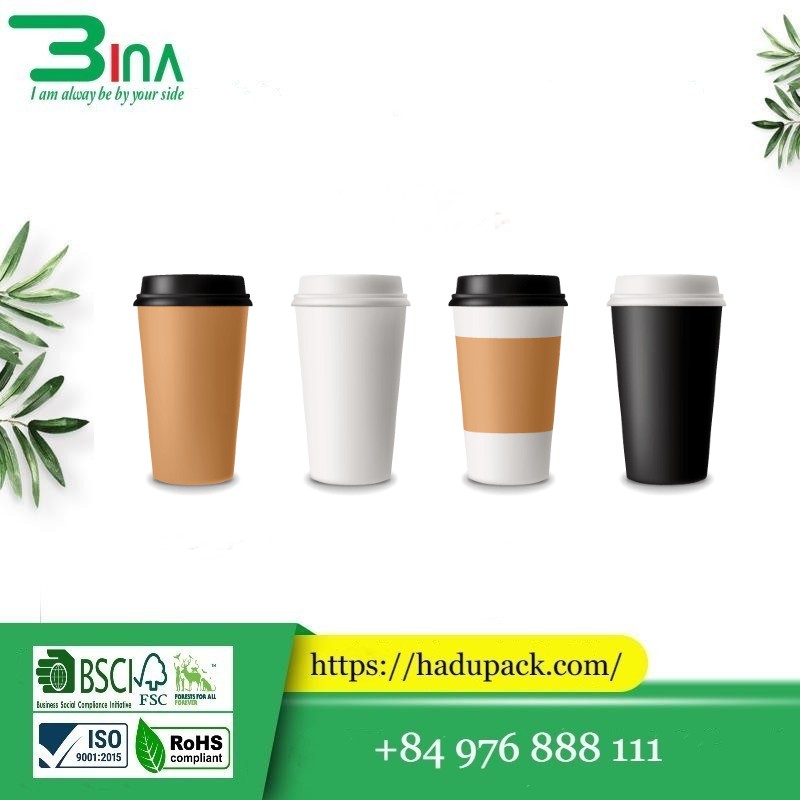 1. Advantages of Hadupack paper cups and disposable paper cups
Safe for users: Kingpack's disposable paper cups and paper cups use 100% pure PO paper, completely natural, without detergent powders. In addition, instead of the usual PE plastic coating like other paper cups and paper cups on the market, Hadupack paper cup products use a PLA coating inside the cup. This is a degradable bioplastic derived from plants and is extremely safe for users' health.

Environmentally friendly: Paper cups produced by Hadupack are completely biodegradable and decompose very quickly in natural environmental conditions. In addition, these types of paper cups after use can also be recycled into extremely useful products such as paper towels, paper bags and other stationery.

Strong paper material, ensuring aesthetics: Hadupack's paper cup models use paper material that is not only safe and benign but also sturdy. Therefore, the paper cup models here are extremely sturdy, beautiful, and meet aesthetic needs.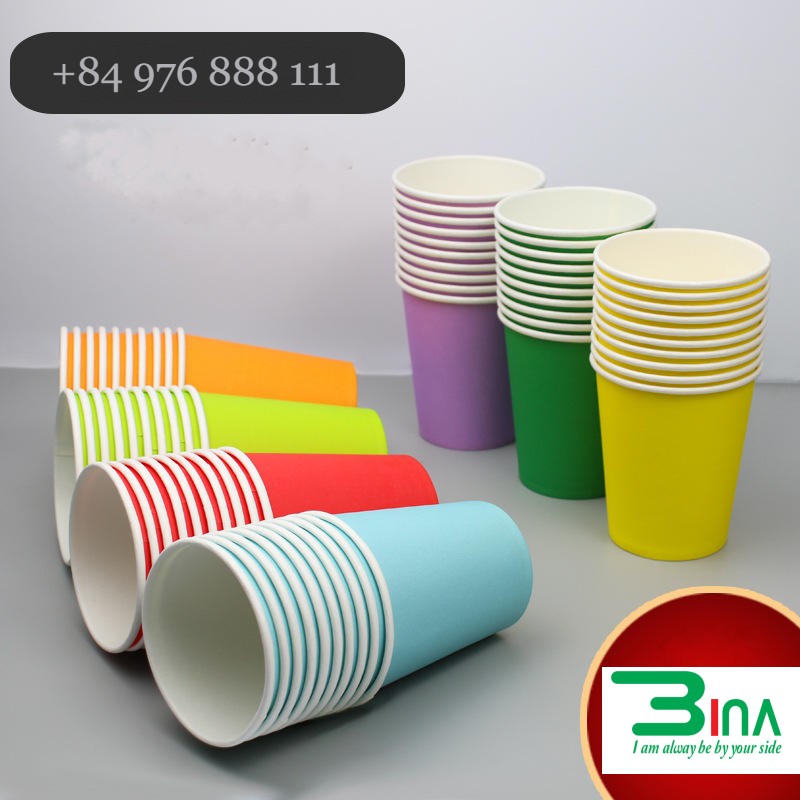 2. Popular types of disposable paper cups/cups today
2.1. Cold paper cups
Cold paper cups are paper cups coated with 2 layers of PE inside and outside. This type of glass can be used for both hot and cold drinks. The inner lining is to protect against heat and does not affect the taste of the drink, while the outer lining is specialized for cold drinks because it will not seep out of the glass, causing the glass to rot, overflow or distort the glass. .
2.2. Hot paper cups
Hot paper cups (1pe) are paper cups specialized for storing high-temperature hot drinks such as coffee, hot cocoa, and hot tea. Coating the inside of paper cups with plastic helps maintain the temperature and original flavor of the drink
2.3 Polystyrene paper cups
Polystyrene paper cups are improved paper cups from hot paper cups, which are also used for hot drinks. Polystyrene is also known as thermoplastic. In a small experiment, the results showed that the heat retention ability of Polystyrene cups is better than hot paper cups.
2.4. PLA biodegradable paper cups
According to current new technologies for producing paper cups, people replace the PE plastic layer with a PLA biodegradable plastic layer, a plastic layer made from plants. The advantage of paper cups is that they have good decomposition ability, are environmentally friendly as well as safe for users. Hadupack often uses this layer of PLA plastic to coat the inner lining of paper cups and the outside is coated with PE plastic.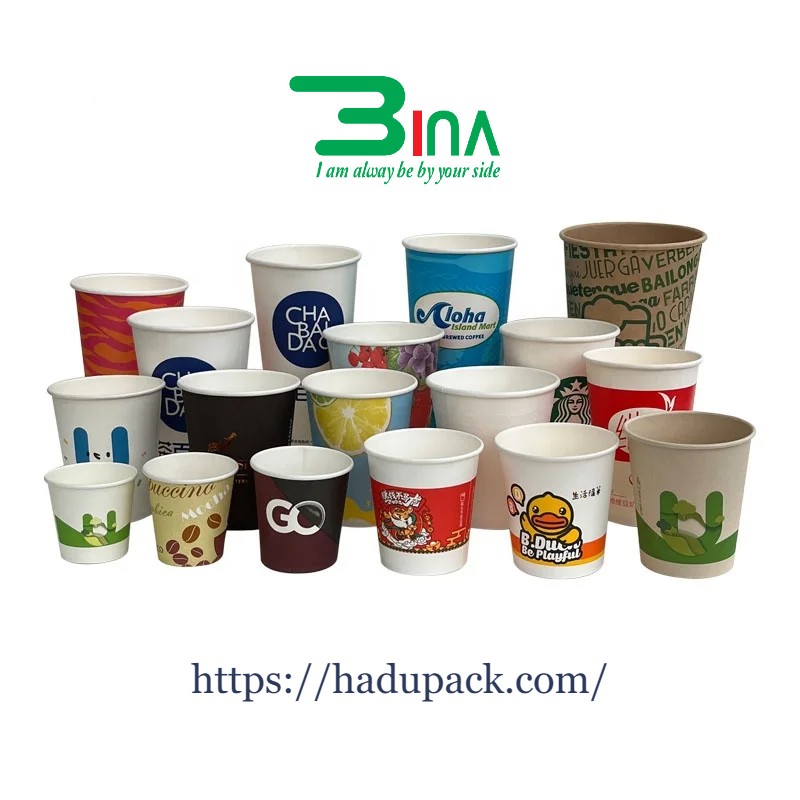 3. Applications of paper cups and paper cups today
The need to use paper cups instead of plastic cups is currently a trend and is used by many stores and individuals to protect the environment as well as their own health. Everyone knows that plastic cups are not only When storing hot drinks, each plastic cup can take hundreds or thousands of years to decompose.
In addition, using paper cups is a form of brand promotion for companies or coffee shops when printing logos or business images on the cup body. Therefore, paper cups are widely used today such as:
Coffee shops, milk tea shops

At birthday parties and picnics

In schools, hospitals

In industrial zones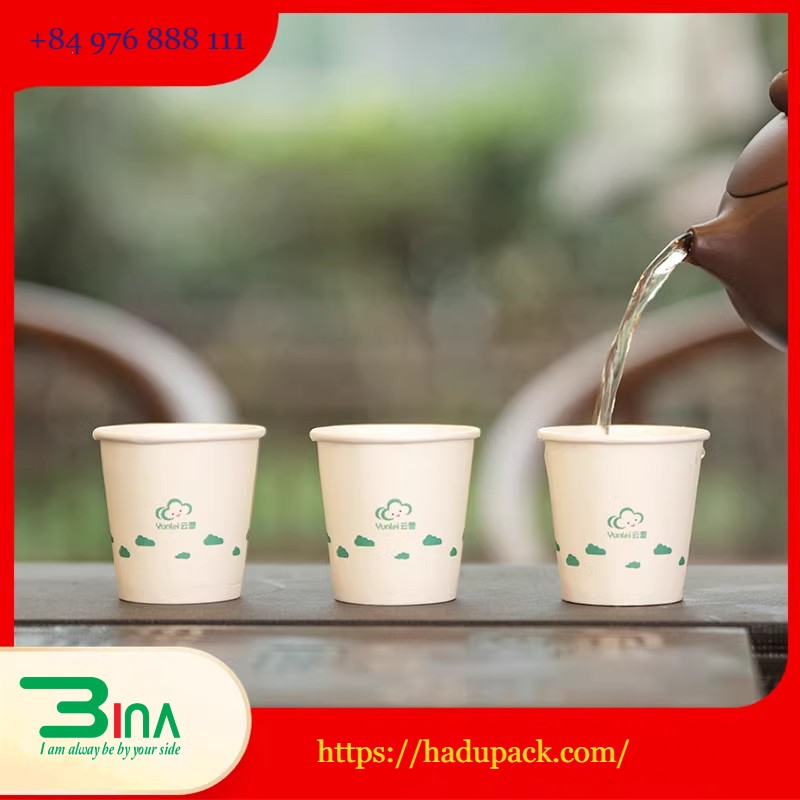 4. Be careful when using disposable paper cups/cups
Pulp material for producing cups: Raw materials are the top factor you need to consider when choosing a paper cup manufacturer or buying paper cups. To produce a cup or paper cup, people will use many different types such as: paper from bagasse, biodegradable plastic, Polystyrene paper,… Each type of cup will have different materials depending on The characteristics are suitable for cups, however, it must be ensured that this pulp is safe and does not contain bleach that affects consumers' health.

Store drinks in suitable hot and cold cups: There are huge differences between paper cups used for hot and cold drinks. You need to pay attention when storing drinks to avoid confusion. Hot cups are coated with only one layer of plastic inside to retain the heat and flavor of the drink, while cold cups are coated with two layers to avoid causing the cup to rot or seep out.

Drinks should be stored below 70 degrees: Although there are paper cups on the market today that are specifically manufactured to hold high-temperature hot drinks, drinks should only be stored when the maximum temperature is 70 degrees. degree. Because when the temperature is too high, the plastic layer inside the cup can melt, leading to dissolution or change of substances, mixing with the drink and affecting the user's health. Besides, if the temperature is too high, holding the glass can also cause burns to the drinker.

Avoid printing logos, brand names or images too close to the mouth of the cup: If it is too close, when the ink meets water it may peel off, and the substances in the print mouth will follow the drink into your body. This will create the opposite effect, not only will it not promote the brand image to customers, but it can also leave a bad impression and image when using the cup.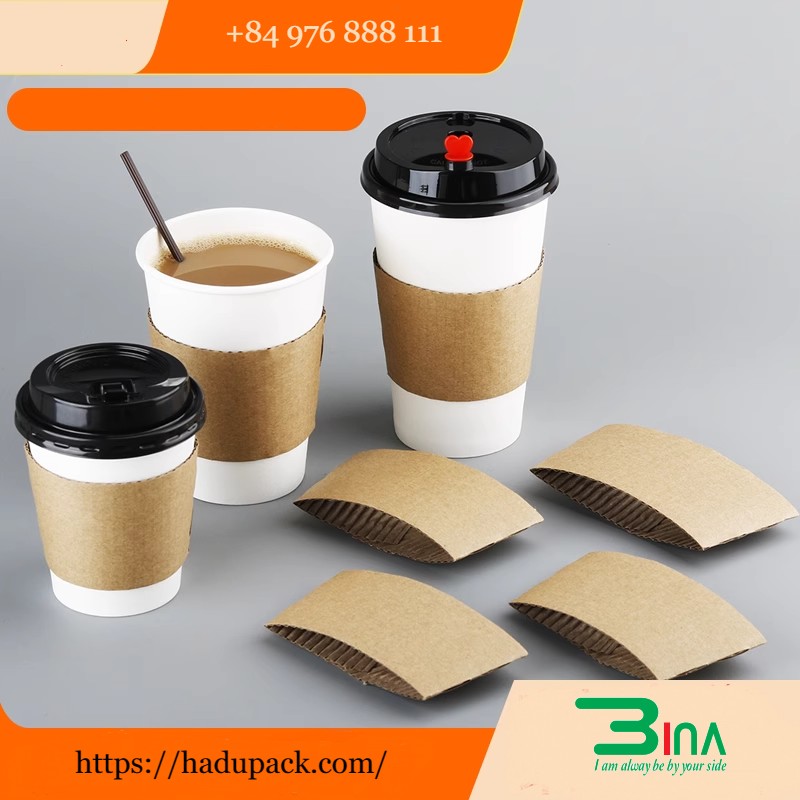 Hadupack – The leading company manufacturing cheap quality paper cups and paper cups in Vietnam
Hadupack is proud to be the leading paper cup printing unit that meets European export standards with a variety of designs, products, and solutions, from regular to high-end paper cups. Using the latest paper cup production technology, bioplastic PLA, to provide customers with safe, quality products at the most preferential prices.
☞Find out more: Pla granules
Besides, we also have support policies such as:
Delivery support within just 2 hours in Hanoi inner city, 1-4 days in other provinces from the time of order.

Free shipping for large orders.

100% quick return warranty if the order is defective.