Description
HDPE bags – Features and properties:
HDPE bags are High Density Polyethylene bags. HDPE bags are the strongest PE bags, with very good puncture and tear resistance, recommended for packing heavy, irregularly shaped items, especially those with edges. sharp or pointed safely and effectively.
The symbol for HDPE is plastic number 2, also abbreviated as PE-HD.
See more: LDPE bags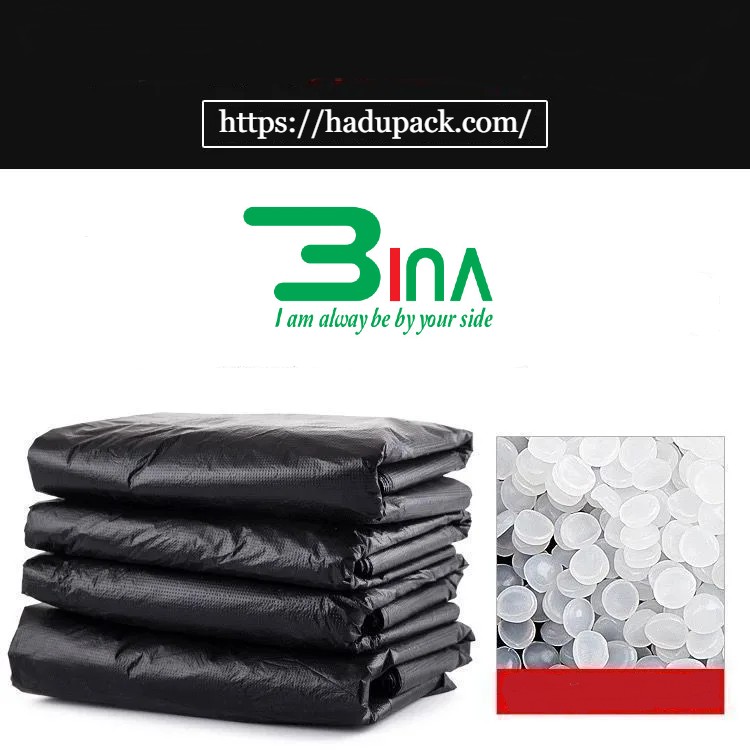 Features of HDPE bags:
✓HDPE plastic bags have the highest tensile strength among PE bag.

✓HDPE has little stretch, is very hard and opaque.

✓Very high heat resistance, up to 110°C for a long time. In a short period of time can withstand heat up to 120°C.

✓HDPE is resistant to many solvents, chemicals, and waterproof.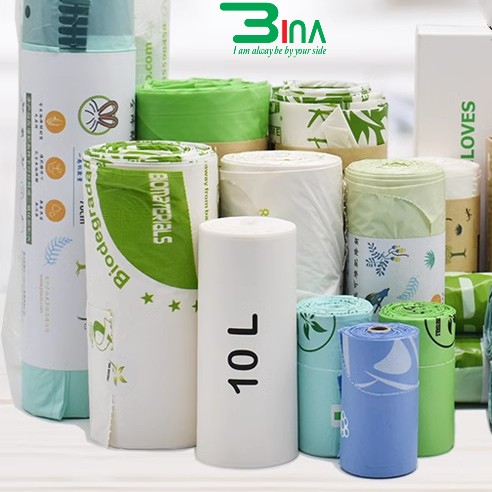 Advantages of HDPE plastic bags:
✓Production time HDPE packaging is fast and low in energy, easy to recycle, so it is very environmentally friendly.

✓Low material weight.

✓Low production cost.

✓Effectively resistant to chemicals and vapors and performs well in a variety of weather conditions.

✓The ability to hold a lot of solid or fairly large items without tearing.

✓Optimizing packaging and shipping costs.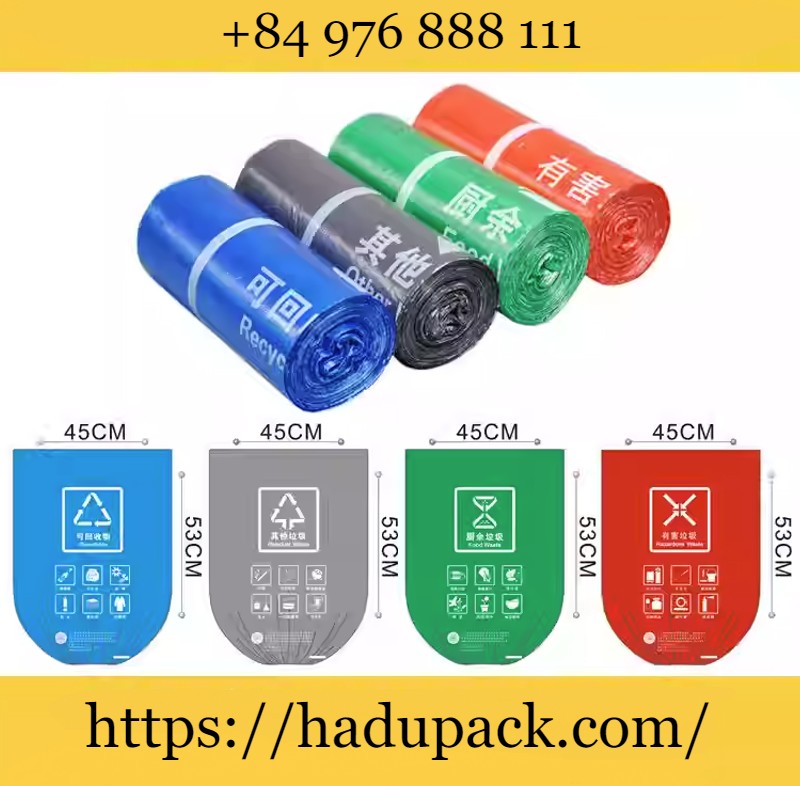 Common bag usage:
✓Packaging for bulky products: With high tensile strength and variety of shapes and sizes. Wired HDPE packaging offers an excellent packaging solution for businesses with large, bulky or irregularly shaped products or sharp edges.

✓Pack a wide variety of items: From rigid products like nuts, bolts, and nails to medicines, pharmaceuticals, or even agricultural items like grain and animal feed. HDPE plastic bags can handle any packaging need.

✓Pack the product on the go: The bag can be used to protect the product from dust and moisture when storing, displaying, or moving.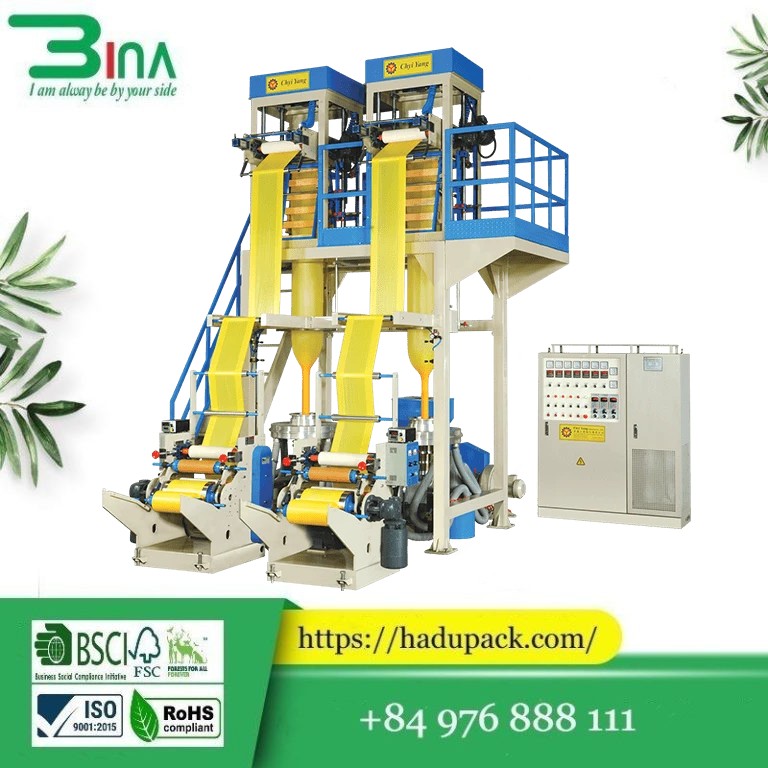 Production of HDPE plastic bags:
HDPE packaging is a practical packaging for various goods, and is a lightweight and inexpensive alternative to cardboard boxes. This plastic bag is widely used, from shopping centers, households, factories to construction sites because of its outstanding advantages.
Contact Production of plastic bags with Hadupack +84 976 888 111.

Packing bags are produced in rolls.
Bag specifications

Handle specification

✓Vertical bottom HDPE packaging.

✓Flat HDPE packaging.

✓Hip lined HDPE packaging.

✓Strapless bag

✓T-shirts .

✓Punch a hole.

✓Squeeze handle.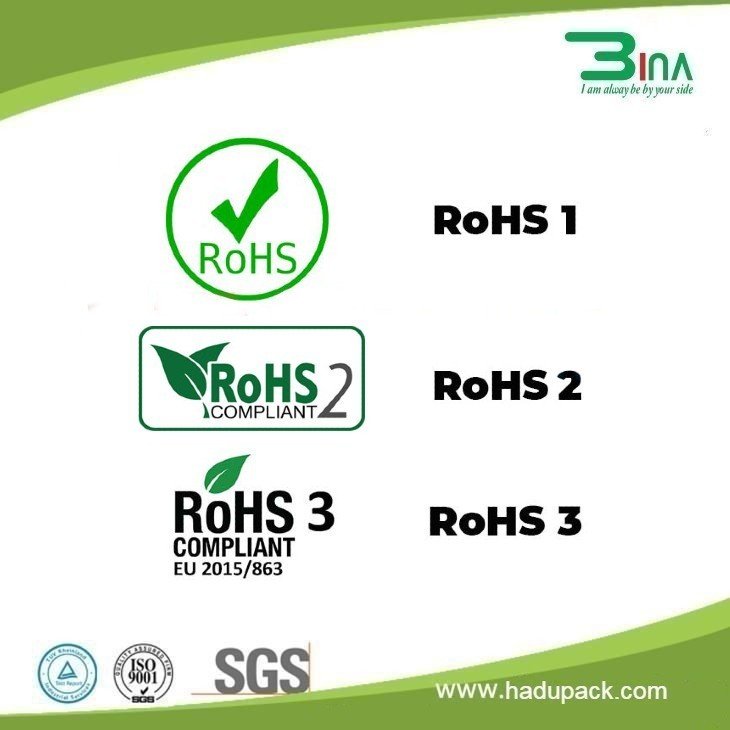 Production of HDPE plastic bags according to application:
✓HDPE plastic bags: produced in rolls, flat bags without handles for the cheapest price. Made from recycled plastic.

✓Market bag, supermarket bag: Very durable bag that can hold many products without worrying about tearing, used in markets, supermarkets. Usually made as T-shirt bags, smooth or rough surface, many Different sizes, colors and thicknesses.

✓Shopping bags: Usually made of strap bags, or perforated mango bags. On the bag is printed logo, logo of the store, shop…